Festival Report

フェスティバル レポート 2014
His tools seems very handmade and sometimes broken.
Especially, durling DAIDOGEI World Cup 2014, they are hit by heavy rain.
But don't worry! He creates new stories and tools from one to the next.
He doeesn't need to use old tools.

He deals with very fresh topical problems, new songs and cinemas.
It's worth learning Japanese to understand his fresh stories.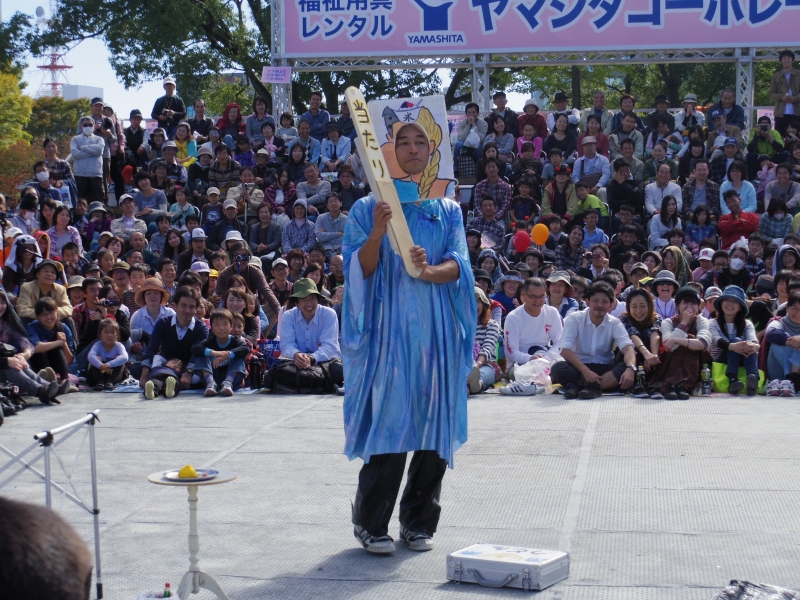 So he is always improving his stories and tools, even during World Cup.
His progressive attitude masut have very good influence for young artists.
Thank you Tezuka!!

(yyukke)
The "multinational" duo comes to Japan for the first time!
10 years ago,
Loïse : an alpine sweet born in Australia, and
Oren : from Israel, spent long time in Idia,
started circus performance under the Pitanga tree in Brazil.
Their performances deal with universal affairs of man and woman.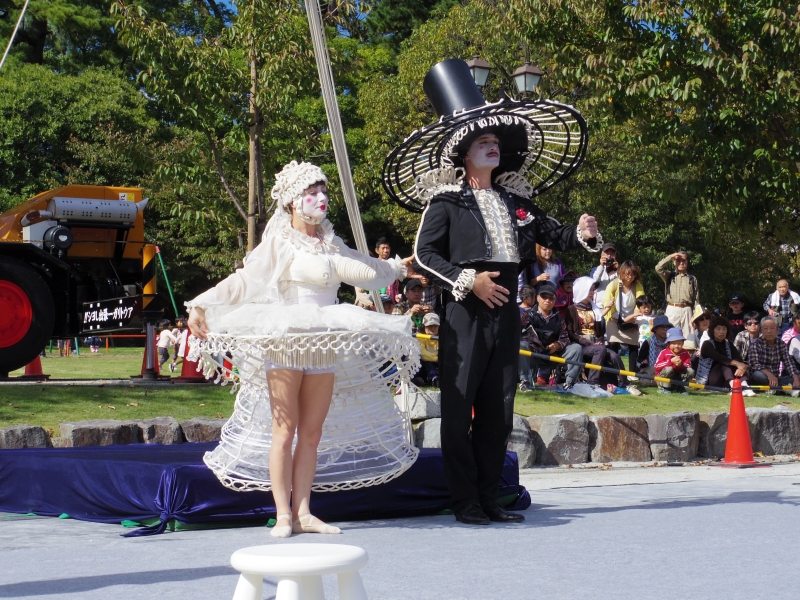 "Cordes Nuptiales" was created for this DAIDOGEI World Cup in Shizuoka over a long time.
It starts with sense of tension and expectation for marriage.
Then the bridal couple are caught in funny accidents.
Finally, they co-create a beautiful aerial.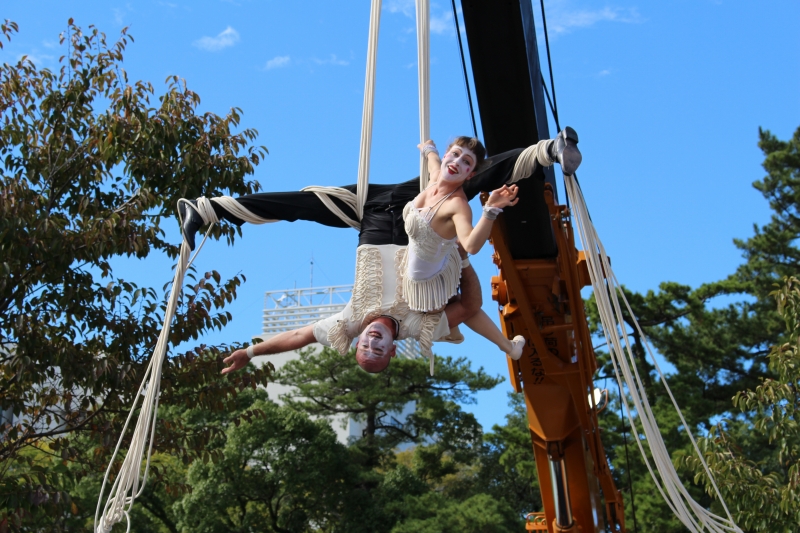 (photo by N.Saito)

Irrespective of cultural background, age and sex, you may share the feeling of the bridal couple.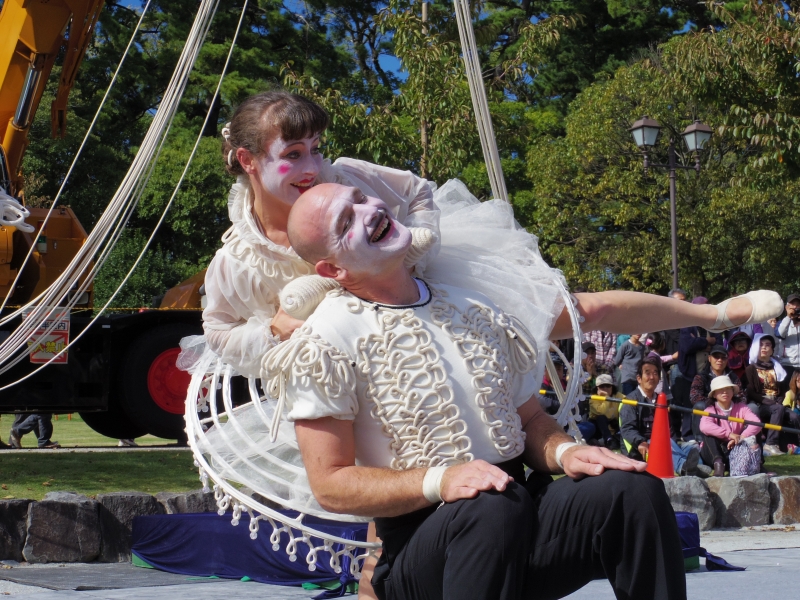 Congratulations on CIRCO PITANGA's successful performance in Japan, the first unknown-language country.
Please enjoy Japanese hot spring (onsen) durling final days in Japan.

(yyukke)


* Pitanga is a Brazilian tree, with white flower and red fruit. The fruit is very acid but not as much as lemon.
* They can speak English, German, French, Italian, Spanish, Portuguese, and Hebrew.

Controlling three balls with dexterity, Tatiana Konoballs
showed the audience a unique performance of her own.

Tatiana's mother was a gymnast which influenced Tatiana to
start gymnastics. Later, she enters an academy to receive
professional training. At first, she could not have a
spot in a performing group because she was told she was
not tall enough. However, by improving upon her athleticism,
Tatiana receives a unique role to work with fitness balls,
which won her a position on stage.

Amazingly, Tatiana practices 12 hours everyday. She runs and
rides the bike to maintain stamina, and also practices her
stage act from 9A.M. every morning under her trainers supervision.
"How much you dedicate yourself into what you do will change
the outcome of the result," says Tatiana.

"Performing on stage will assure that you will get salary.
On the contrary, street performance is interesting because
the money you make depends on whether the audience thinks
you are interesting, because the audience will only pay
if they think you are interesting. This makes street performance
a great place to learn and become better." Today, Tatiana has
shown us several new acts to test how interesting her new acts are.

"Japanese people are not good at speaking English, but they are kind
and friendly. I think that it would be more fun if Japanese people
learn to speak English."
Tatiana promises to improve her performance and maybe come back
to Daidogei World Cup again.
Lets hope she comes back to Shizuoka again for another fantastic
performance!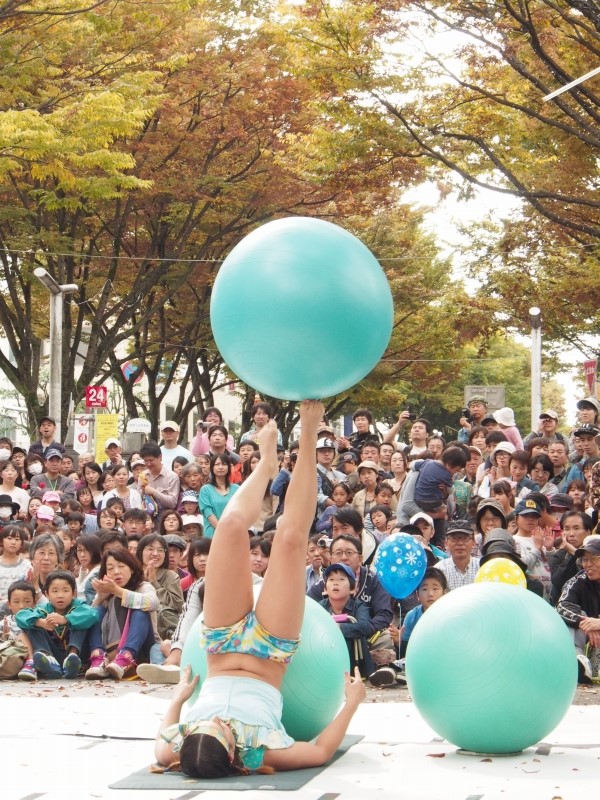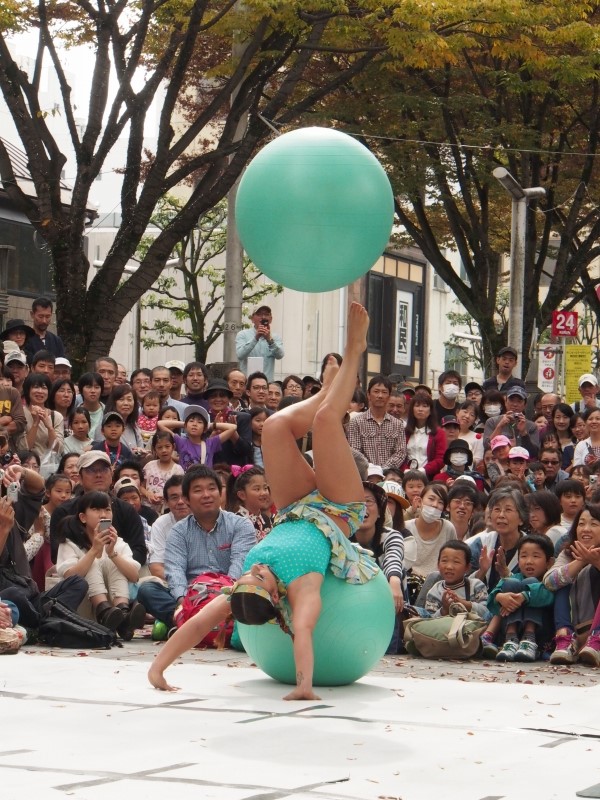 peparonipizza
"Their show is more than just an acrobat with music, but a story of love" an audience said, after seeing their performance.
The show starts with a plaintive melody of an accordion.
It sounds like a waving heart of woman.
Her heart is waving between two men.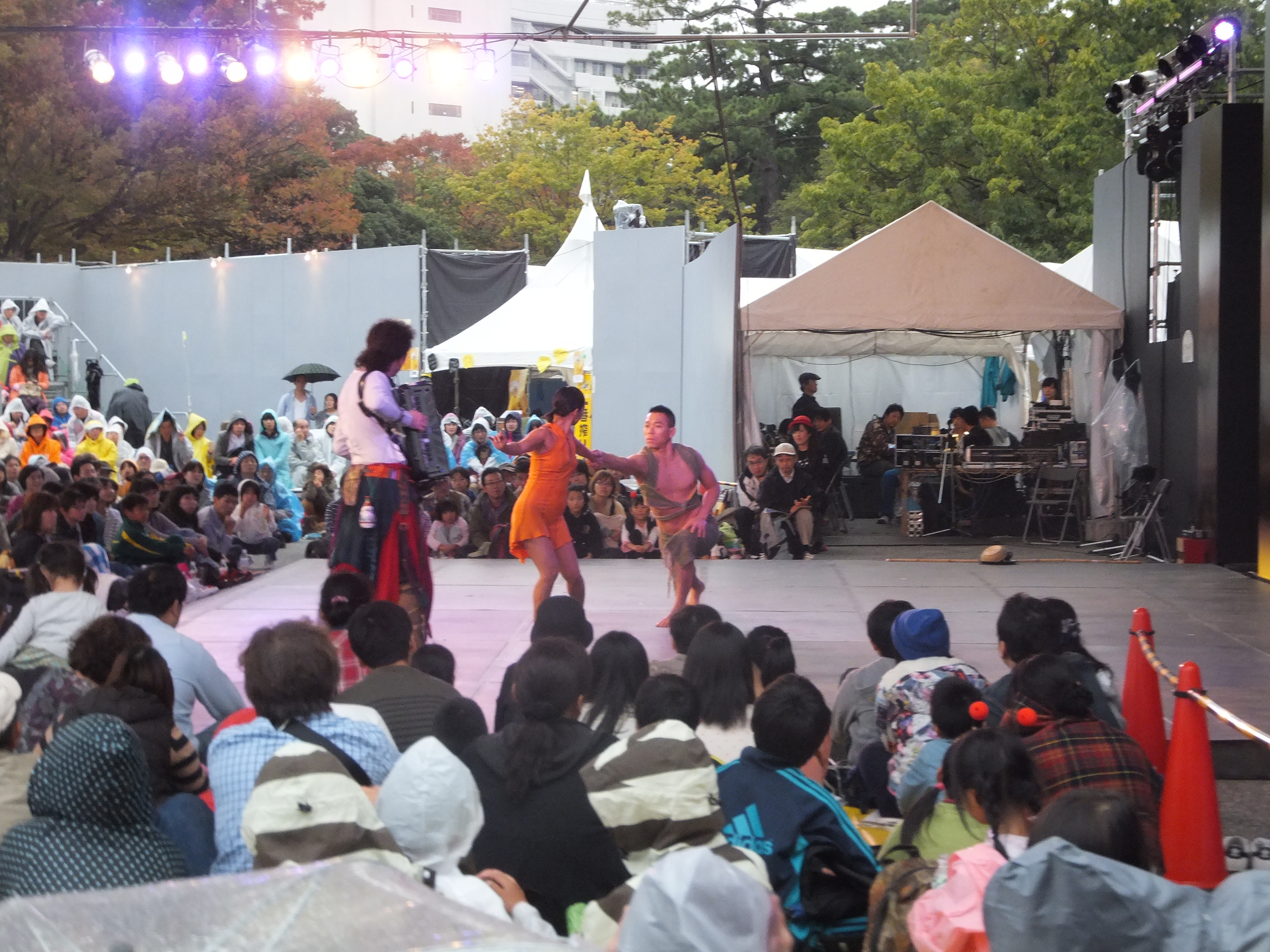 C'est pour toi is a fantastic combination of an acrobat and a live music accordion.
The story is told with an amazing acrobat skill by Vietnamese duo Dinh Huynh and Van Anh,
but the acordion player Rudik Yakhin who is from russia and won 1st place in international festival in Germany put a great flavor into their show.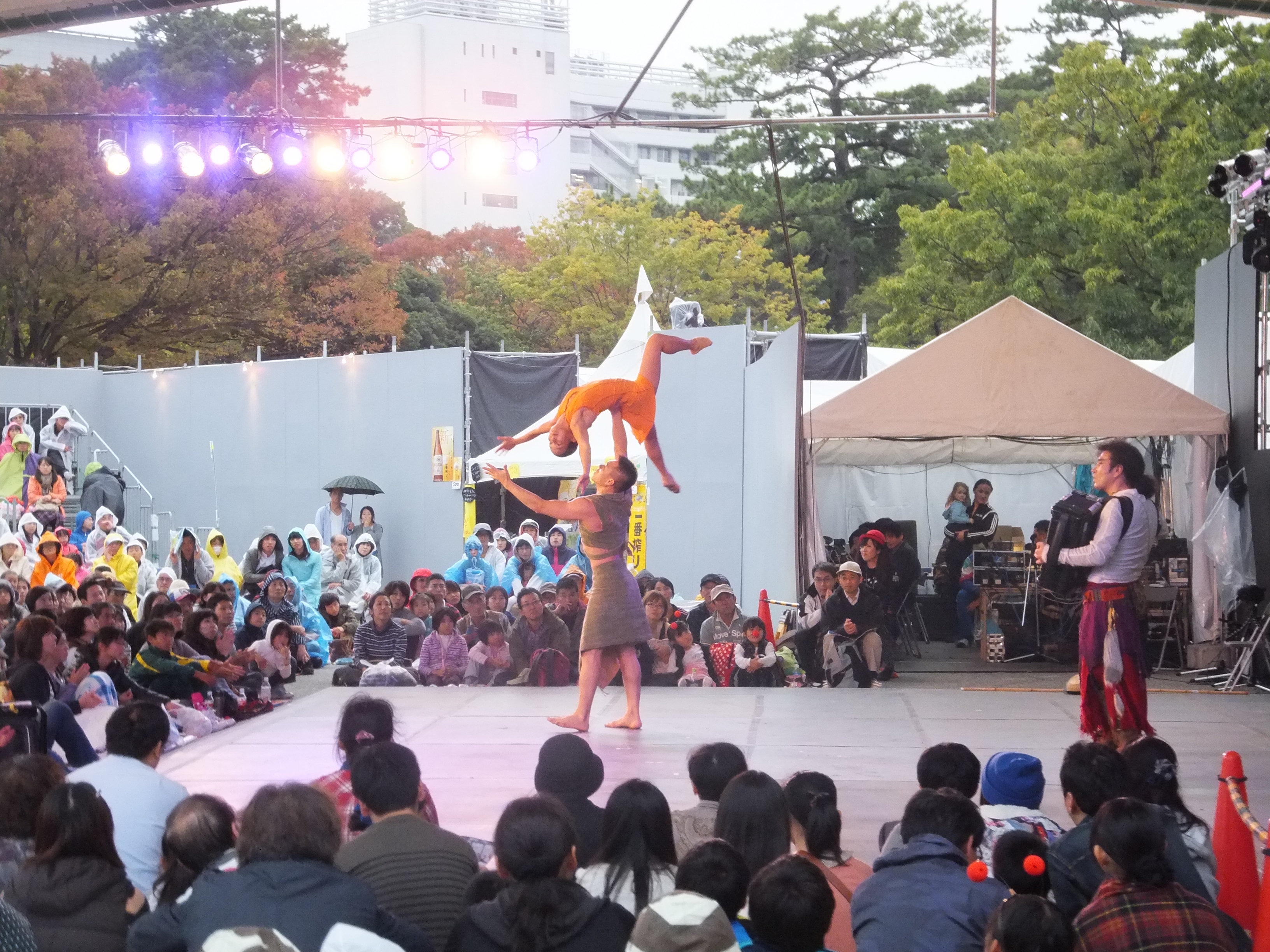 Their show is not only a serios but with laugh. It prove their good combination and multiple talent.

Please, come to see their show and see how story end.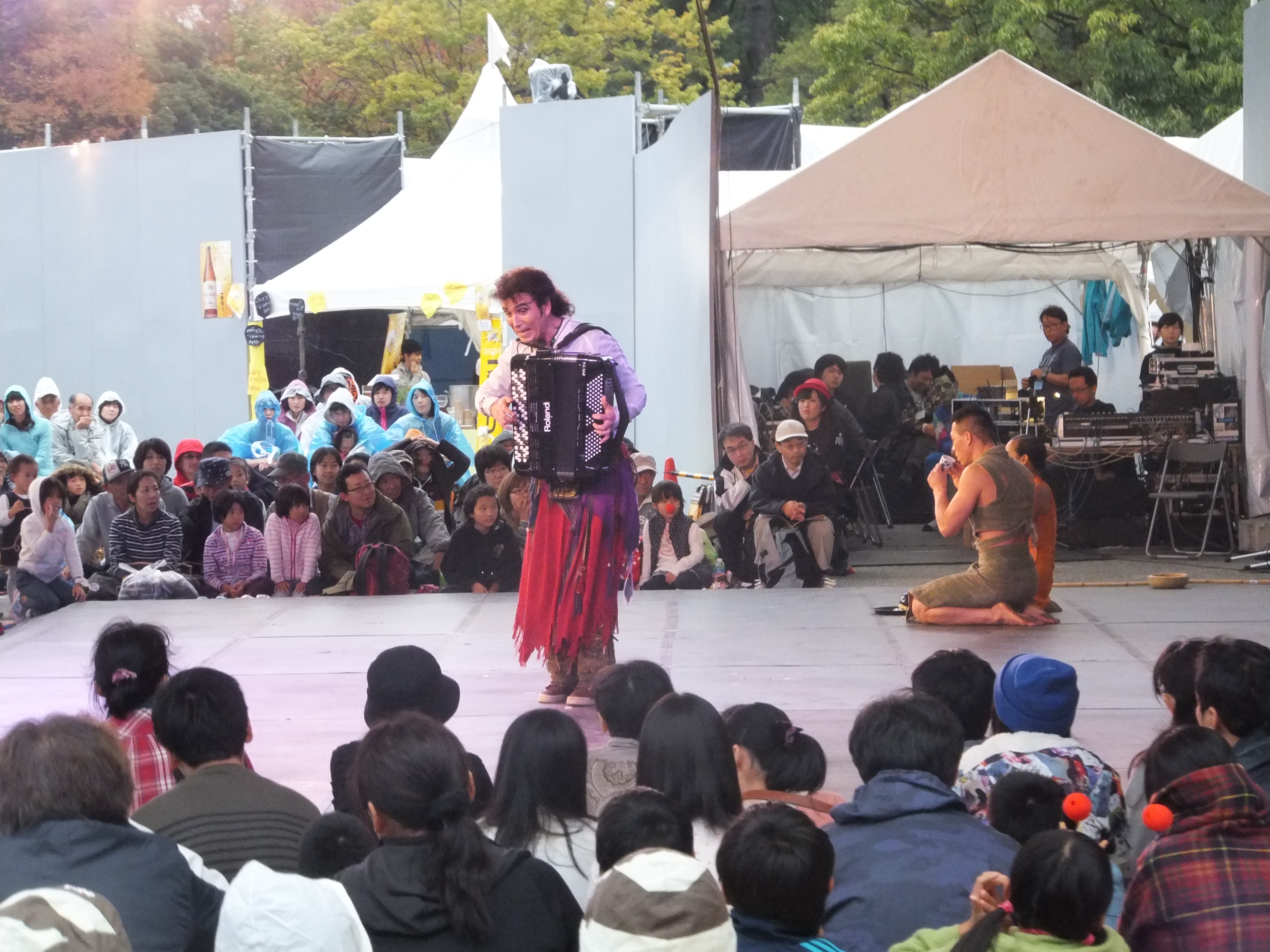 (YUKI)
The only member in the ON stage from Shizuoka City, Yusaku Mochizuki entertained us with the combination of tap dance and diabolo.
There was a huge crowd waiting for the hometown performer, although slight drops of rain started to drop in the area.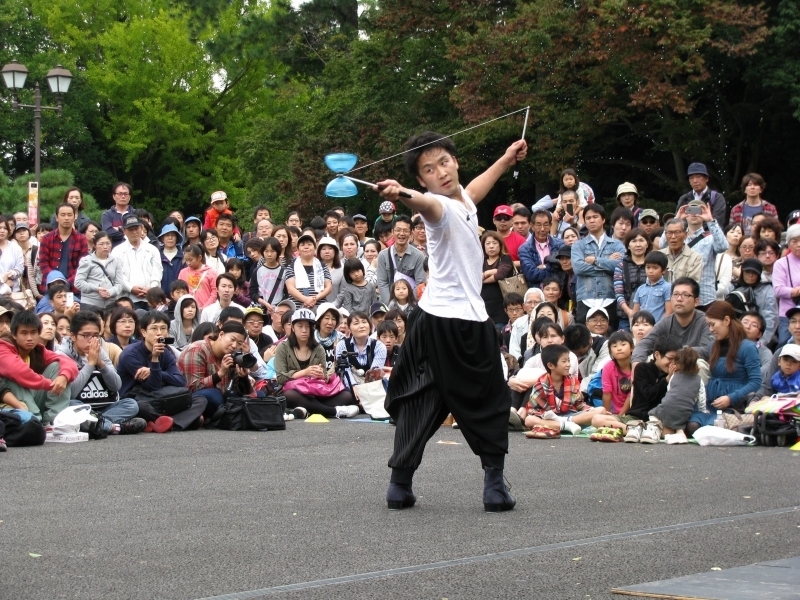 Of course, he knew about Daidogei since his childhood, and every year, he gets overexcited this time around at the year.
He experienced the first Daidogei festival around the age of three, and started performing in the Daidogei around 1999 in a yo-yo competition.
He learned about imaging arts during his university life, and he performed as a guest in a dinner party celebrating the 50th anniversary of Tokyo Olympics, which was sponcered by the Prime Minister.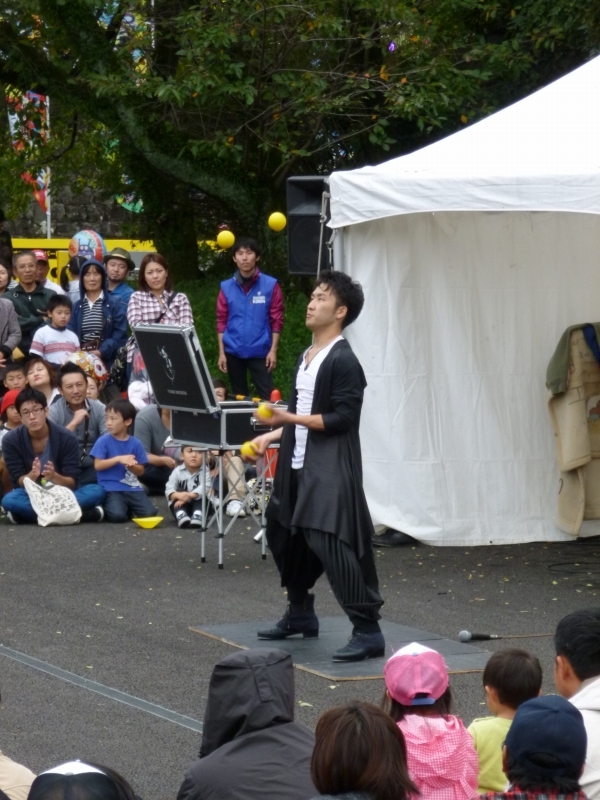 One thing that he kept in his mind is to enjoy his performance, since if he focuses too much on his skills, he cannot express himself well.
He tap danced to keep us in, and as time passed by, he started to add the number of diabolo,increasing from 4 to 5 to 7.
He had many tricks that he mastered, such as spreading the string around back and forth, and juggling the diabolo like a ball.
The most entertaining trick was when he threw a diabolo high in the air, and just as when the diabolo safely reached in the string, a large applause came from the crowd.
He feels priviledged about getting to perform in the Japan Cup.




In the evening show, he would perform using the knowledge of imaging arts.
He would keep you entertained with a different kind of show, so don't miss out the night show from 7 pm!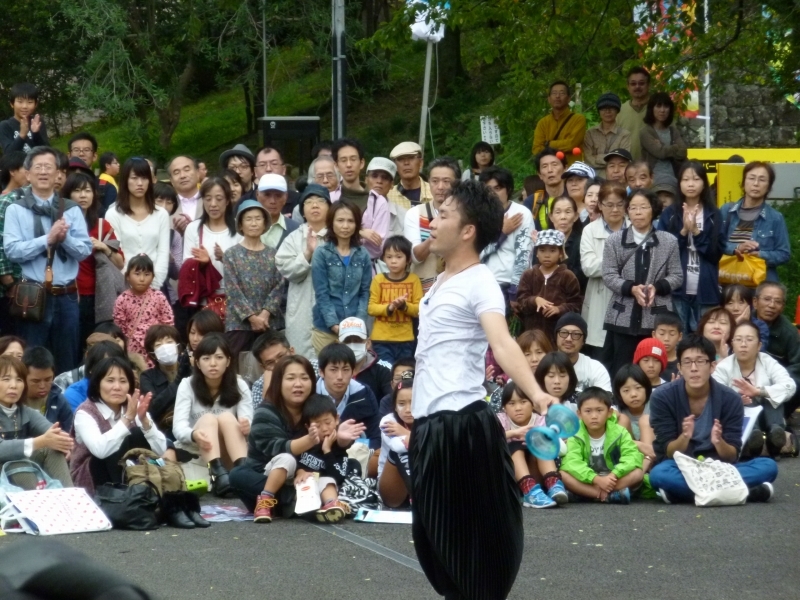 (haru.s)
Andrey and Fred appears on stage, engaging in a
fierce battle. Trying to take control of the microphone,
Andrey plays tricks on Fred. In a matter of minutes,
the two becomes soaked with water from head to toe.
As the performance continues, the story takes a different
turn and the two becomes friendly to each other. At the end,
the beauty Zarina appears and the three sings in harmony.

"There are many battles in life, and there will be times
when you will win and lose. However, you will surely be
able to build friendship at the end," says Andrey.

As portrayed in the Jigalov Show, we all know we will have as
much battles as we have encounters in life. The important part is
to understand each other and come together to help each other
regardless of the differences that people have.

But it is natural that you would want to win the heart of a
person you love. So I will tell you a little secret.
Zarina prefers a man with a "good heart."
If you want to capture the heart of a beauty,
work on your inner personality!!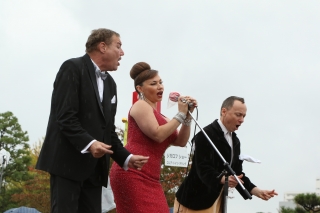 (peparonipizza)

Suddenly, a man with a chicken mask appear.
I couldn't believe my eyes when he appeared, and I was even more shocked to see the man wear a chicken mask and play with chicken dolls.
How bizarre it is!
But, next moment you'll notice that you are captchured by his performance and can't take your eyes off.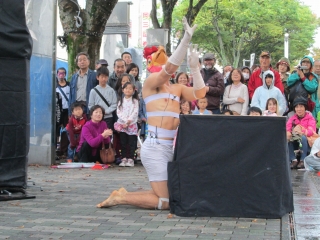 There are many animals that appears in his performance, and he shows respect to each animals.

Quim Giron decided to put animal movement into his show,
after practicing his skill of handstand and acro-dance in several circus schools.
It succeded to make a story into his performance.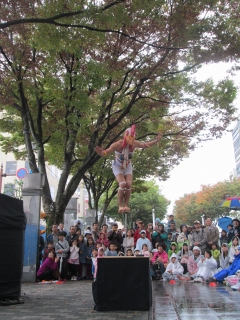 His show has many messages; gender, animal, masculinity, feminity.
What you get from his performance depends on you.
Come to his show and find your own message from him.
I could say his show is a spiritual ceremony rather than performance.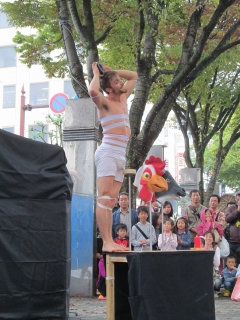 (YUKI)

His magic hands were dealing with devil sticks that's his most favolite!
His performance is really huge, devil sticks, diavolo, and jagglin.
Among these performances, Devil sticks are No.1 performance.
The figure looks like buttons colored silver white.
These sticks seems his patrs of body! I mean I can't believe
the sticks have gravity. The sticks gain zero gravity thanks for his
sensitive performance...
Even though rain became heavy, more & more,He never missed his performance
with concentration, so it achieved his finale performing, perfectly!!
After the performing, the rain stopped!
Even the weather(terrible rain) cheer him up at last!

Today's his performing did in front of Shizuoka station in the evening.
But I wanna recomend you guys about his night show.
It made fantastic sense of world based on flexibility with gravity & lights.
Night show brought audiences to beautiful & wonder land with both dark & lights
Please touch the feeling with your eyes!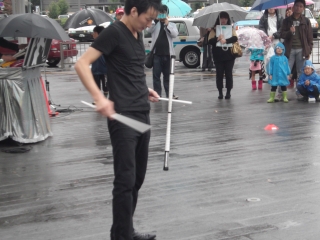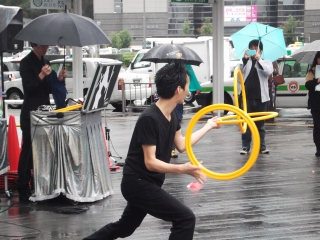 Reported By maeno

A lot of audience were looking forward to his performance.
In the rain, the performance started on time.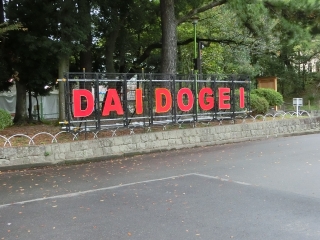 First, Dance performance with light suit.
He made the suit himself in half a year.

The light was synchronizing with music and dance.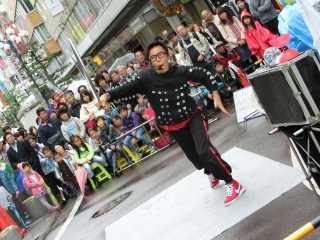 Next, Diabolo.
The item is like spinning top.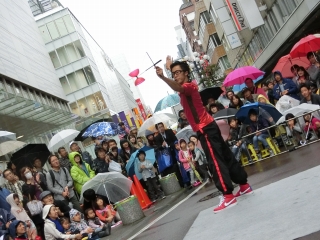 Then, Juggling.
He was juggling a burning torch.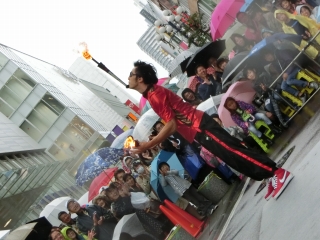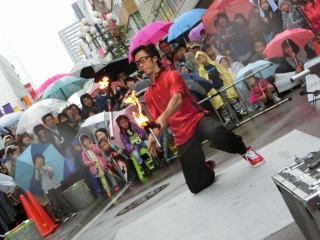 「Wow!It is hot!」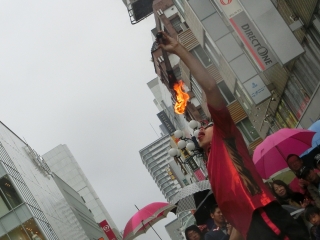 Last, Cup and ball on the ladder.
It was more difficult because it rained.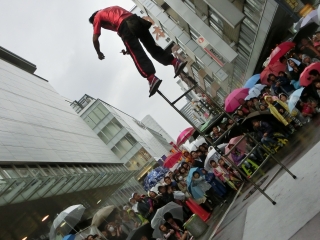 He amused the audience with many kinds of performance:)

(natsu)
She has been participated in the DAIDOGEI World Cup in Shizuoka for the 10th time in a row.
It's no doubt that she is the top favorite here.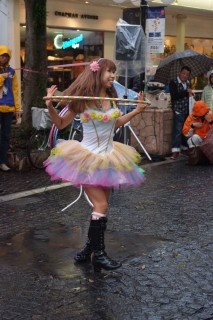 Her performance is like a musical production.
She dances, speaks, sings, hoops and juggles huts in a harmonious way in her production.
However, sometimes she gives her real live voice in a winsome "Osaka" tone.
You can't stop being fascinated by her personality!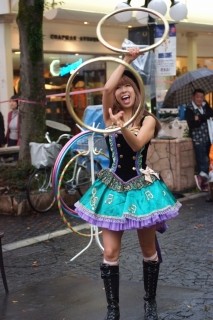 She decided to make people happy with her performance when she was 15-year old.
From her performance, you might feel the innocent passion of the time when she first started performing.
Not only her well-known positive attitude, but also her devotion to realize her dream makes us happy.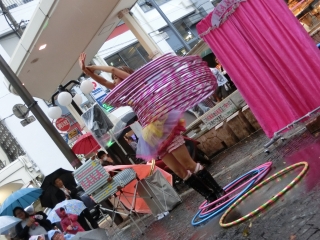 Let's meet Kana: the idol "you can actually go and see".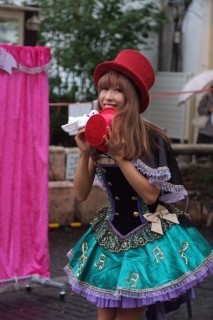 (yyukke)