Festival Report

フェスティバル レポート 2014
Finally, the sun shine has comeback!!
People in Shizuoka have been waiting for this clear blue sky!
But not only human-being, there're some other creature that can not hide their joy.
It's the frogs; "SHALTON THEATER."

You have to be very careful when you walk in "the walking street,"
because you may happen to see these jumping frogs.
Of course they're not going to hurt you but they may try to lick you with their long tongue!

Red goggled-eyes, wedding hands, muscular legs,
their intense appearance always draws the audiences' attention, especially the kids.
Some are frightened, some are curious, some try to jump together.
The two frogs always accept their reaction gently.



Under the blue sky, your heart must be hopping just like the frogs.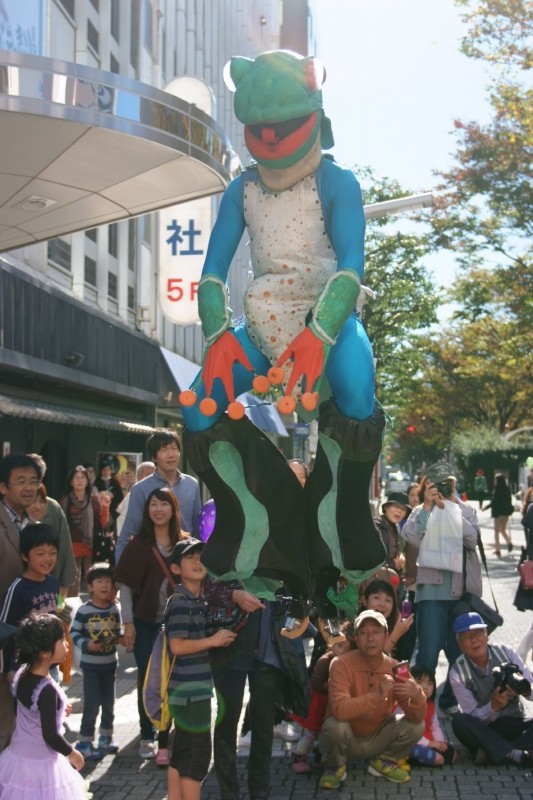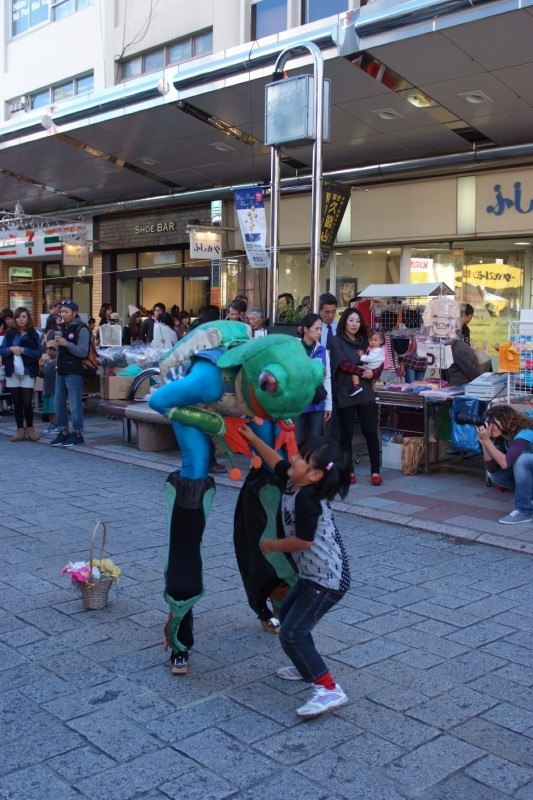 chunta
During enjoying this festival,
many moms are worried to care about babys...
This year, VANVI wagon system is coming for supporting
such a mothers who need to change diaper or nursing.
Every mothers can care thair babys without leaving,
concern, and so on. What a relief!
Usually, the wagon system will stay at Kids garden.
Try to use this support system with safety!

Reported By maeno



It's presented by information staffs.
"MIKKE" seal achieve to find the parents of missing kids.
If you find such a missing kids, please pick them up
to missing kids' staff booth.
You help from MIKKE make the loss time delete!
(*Private information is surely managed with safety.)

Reported By maeno

Do you wanna update your favolite items??
I reccomend you guys about original Can batch.
There are several designs which are created, each year.
And this year, big can catch(\300) is special produced.
It sooo cute for decolating your bads, pen-cases, and so on.
I's gonna be available, during just 4 days! Let's arrange!!

Reported By maeno


What's up guys!?
This year, 5 designs cool wears are coming
because of cooperating with Shizuoka advertisement
association as 40th annniversary! Woo!!
During this convention, please enjoy this art
atmosphere with wearing these T-shirts for fun!!
And in add, T-shirts as I am piero(Refer to 2nd left one)
has curious trick by AR appli... You must see that.

Reported By maeno

Unfortunately, it was raining the first day of Daidogei World Cup 2014 in Shizuoka.
Even this bad condition many performer show their amazing skill.
But, how can you imagine a daredevil who was spining on 14 m hight wheel of death within rain?
This is Bello Nock who won the Daidougei World Cup championship last year. He has backed to Shizuoka!!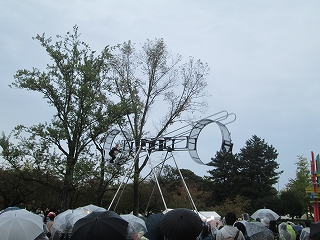 He said that "It is dangerous even it sunny and wheel is good engough dry".
So, why he perform in this terrible condition?

"I try to do what I can do for people who come to see my show even weather is not good", Bello Nock said.
He is a true professional performer!!

Bello Nock is a crown but his acrobatic show is a breathtaking!
He is the only performer who could perform a show which connect laugh and scare.

He brings more safisticated show than last year. Wheel he brings this year is 3m higher than last year.
Unfortunately audiences coudn't see all of his trick today, but he said that If weather is good, he could show us more.
Come to Daidogei and enjoy great entertainment from the all over the world!
Don't miss it!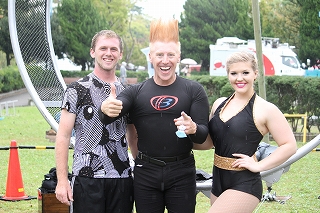 (YUKI)

As holding the welcome party on 29th, October,
many performers were comin' and enjoyin' that atmosphere.
Even though they felt tired because of long trip with jet lag,
they were showed big smiles there.
In that party, many oriental dishes were on tables for welcoming
to Asia, you know. Chinese, Japanese, and so on...
Almost of all foods were not so unique for performers,
because Japanese foods became popular all over the world.
And they are acustomed to that kinds of dishes,
because many performers were repeaters as Japanese tourists.
But only one dish looked scared toward them.
That is..."What is KA-KI-A-GE?? I never heard that."
No one tried to pick it up due to the unique shape.
So I explained it showed below,
"It's a kind of TEMPURA in Japanese. It's pretty popular, right?
And the material that's made from is one of the special products
in shizuoka prefecture. IT's small shurimps in SURUGA harver.
The smell is so yammy, And the sense of biting is so tasty.
You guys have to try, it could be!"
After the explaining, No KAKIAGE were on tables.
And their response & opinions were satisfied with their expecting.
They said, it likes snack. It makes beer tasty. and so on.
Was it gonna be popular among Japanese dishes...? I hope.

Reported By maeno