Festival Report

フェスティバル レポート 2014
Suddenly, a man with a chicken mask appear.
I couldn't believe my eyes when he appeared, and I was even more shocked to see the man wear a chicken mask and play with chicken dolls.
How bizarre it is!
But, next moment you'll notice that you are captchured by his performance and can't take your eyes off.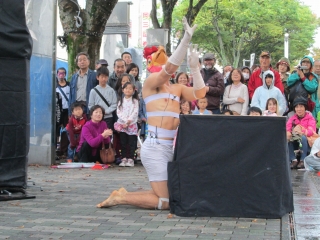 There are many animals that appears in his performance, and he shows respect to each animals.

Quim Giron decided to put animal movement into his show,
after practicing his skill of handstand and acro-dance in several circus schools.
It succeded to make a story into his performance.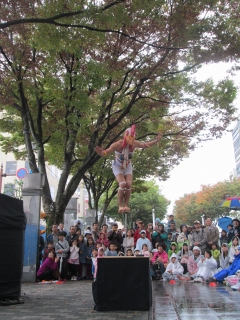 His show has many messages; gender, animal, masculinity, feminity.
What you get from his performance depends on you.
Come to his show and find your own message from him.
I could say his show is a spiritual ceremony rather than performance.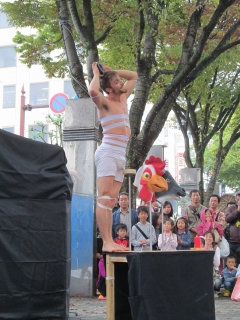 (YUKI)

His magic hands were dealing with devil sticks that's his most favolite!
His performance is really huge, devil sticks, diavolo, and jagglin.
Among these performances, Devil sticks are No.1 performance.
The figure looks like buttons colored silver white.
These sticks seems his patrs of body! I mean I can't believe
the sticks have gravity. The sticks gain zero gravity thanks for his
sensitive performance...
Even though rain became heavy, more & more,He never missed his performance
with concentration, so it achieved his finale performing, perfectly!!
After the performing, the rain stopped!
Even the weather(terrible rain) cheer him up at last!

Today's his performing did in front of Shizuoka station in the evening.
But I wanna recomend you guys about his night show.
It made fantastic sense of world based on flexibility with gravity & lights.
Night show brought audiences to beautiful & wonder land with both dark & lights
Please touch the feeling with your eyes!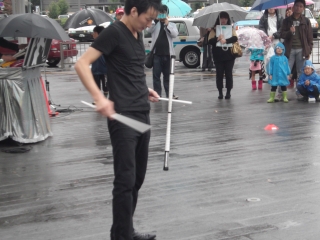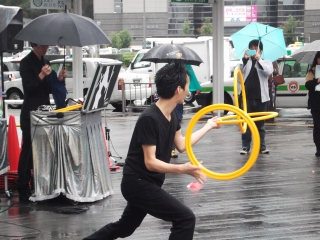 Reported By maeno

A lot of audience were looking forward to his performance.
In the rain, the performance started on time.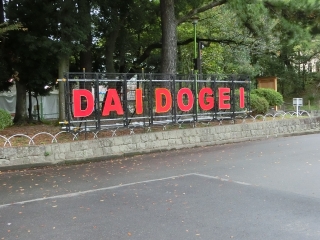 First, Dance performance with light suit.
He made the suit himself in half a year.

The light was synchronizing with music and dance.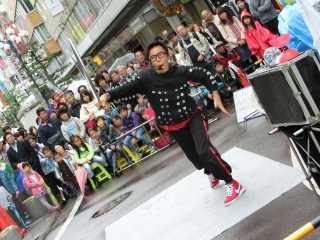 Next, Diabolo.
The item is like spinning top.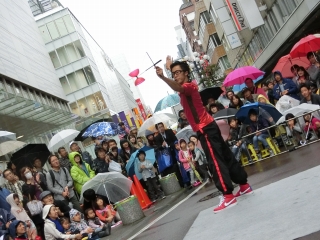 Then, Juggling.
He was juggling a burning torch.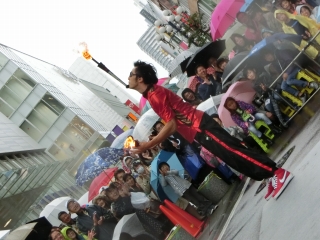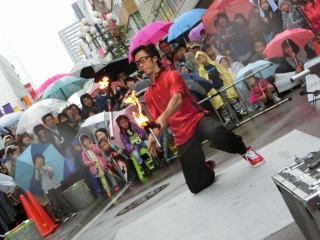 「Wow!It is hot!」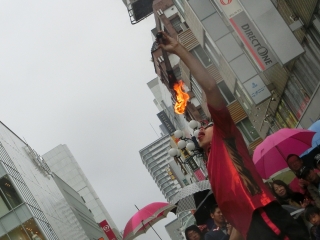 Last, Cup and ball on the ladder.
It was more difficult because it rained.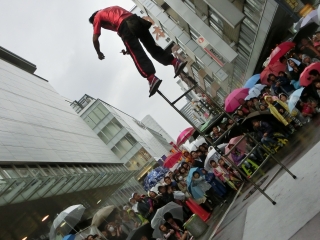 He amused the audience with many kinds of performance:)

(natsu)
She has been participated in the DAIDOGEI World Cup in Shizuoka for the 10th time in a row.
It's no doubt that she is the top favorite here.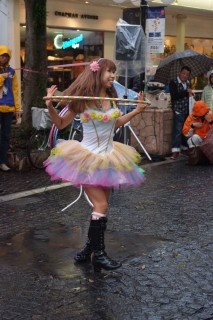 Her performance is like a musical production.
She dances, speaks, sings, hoops and juggles huts in a harmonious way in her production.
However, sometimes she gives her real live voice in a winsome "Osaka" tone.
You can't stop being fascinated by her personality!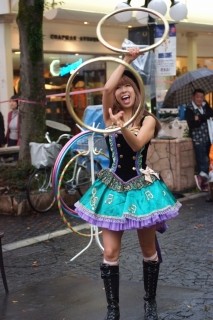 She decided to make people happy with her performance when she was 15-year old.
From her performance, you might feel the innocent passion of the time when she first started performing.
Not only her well-known positive attitude, but also her devotion to realize her dream makes us happy.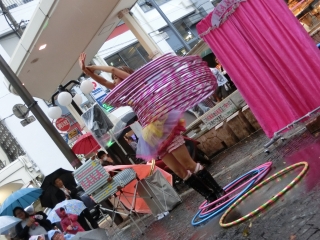 Let's meet Kana: the idol "you can actually go and see".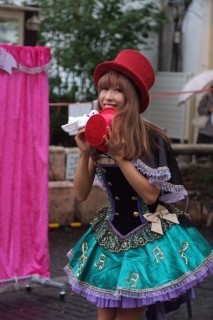 (yyukke)


Zarky is an animal like a human, and he is the only one alive in the world.
His kind is facing extinction.
He loved animals since he was a child, and he liked catching insects and watching animal TV shows.
He used to be an actor and he later on started to take in balloon art into his show.
He had no clothes on, but he told children trivia about animals in the rain while creating animals from balloons.
Children who got the balloons said that he is very funny.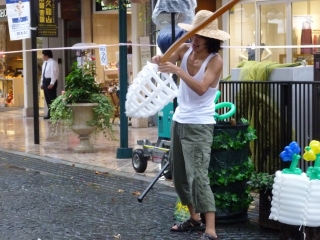 Zarky's favorite animal is Senegal bushbaby.
You probably do not know what it is.
It is a very small monkey, but it can jump a few meters high.
Many people, even children got the message from Zarky's story, and they donated money to support the protection of the specie Zarky.

(haru.s) (peparoni pizza) (るぽん)
During enjoying this festival,
many moms are worried to care about babys...
This year, VANVI wagon system is coming for supporting
such a mothers who need to change diaper or nursing.
Every mothers can care thair babys without leaving,
concern, and so on. What a relief!
Usually, the wagon system will stay at Kids garden.
Try to use this support system with safety!

Reported By maeno



It's presented by information staffs.
"MIKKE" seal achieve to find the parents of missing kids.
If you find such a missing kids, please pick them up
to missing kids' staff booth.
You help from MIKKE make the loss time delete!
(*Private information is surely managed with safety.)

Reported By maeno

Do you wanna update your favolite items??
I reccomend you guys about original Can batch.
There are several designs which are created, each year.
And this year, big can catch(\300) is special produced.
It sooo cute for decolating your bads, pen-cases, and so on.
I's gonna be available, during just 4 days! Let's arrange!!

Reported By maeno


What's up guys!?
This year, 5 designs cool wears are coming
because of cooperating with Shizuoka advertisement
association as 40th annniversary! Woo!!
During this convention, please enjoy this art
atmosphere with wearing these T-shirts for fun!!
And in add, T-shirts as I am piero(Refer to 2nd left one)
has curious trick by AR appli... You must see that.

Reported By maeno

Rhythmically popping with every beat, Zange shows
off his nimbleness by twisting and bending his body.
Also with his dance, he uses juggles glass balls
to entertain his audience.

Zange started dancing in elementary school, and
wins second place with his partner in Japan High School
Street Dance Competition. However, he feels defeat when
only his partner is offered a professional position as a
dancer.

Not losing hope, Zange decides to work harder and realize
his dream by competing in New York's Apollo Theatre amature
night, where he wins first place 6 times out of 9 competitions
he enters, including his debut competition.

Although the word "Zange" in Japanese means remorse,
Zange actually has warm feelings toward his father when he
named his performance name "Zange". His father managed an
independent business, but had alot of hardship during work
and wished his son would have a stable income working in
a company. Punishing himself by naming himself Zange,
Zange works hard wishing his parents would be happy
when he claims victory in competitions.

At Daidogei World Cup in Shizuoka, Zange has promised to
prove his own ability by showing that he is a "competitive
newcomer".
Come and enjoy Zange's unprecedeted performance!

peparoni pizza