Festival Report

フェスティバル レポート 2019
Look at him and guess what he is.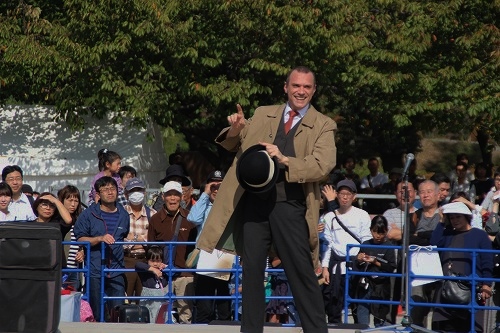 A man in a suit on the DAIDOGEI festival, so he is not a businessman.
He is a performer.
Because of his posture, you may think his performance is a pantomime or comedy. But, which is not correct.

He is a juggler. A hat juggler Lorenzo Mastropietro.

Lorenzo said,
"Usually, a juggler use balls or clubs but I try not to use these special tools, because I want to make it "normal". Hats are normal, and people use them everyday. That's why I choose hats for juggling"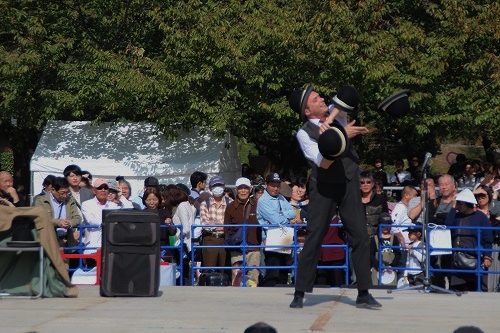 His juggling is fragile as well. Hats are easily blown by wind. Despite such a hard condition, he juggle 5 hats. When you saw he's juggling, you might confuse his hats have magnets. Hats are well controlled and stick to his body just like magnets. But, hats are fragile, especially on the street. So he might fail sometime. However his jolly character and humor cover his failure. And audiences want to cheer him up. Probably, audiences support him because of his character, which is deeply based on his philosophy.

He said that failure is a part of journey.

"When you fail, don't be serious but, don't stop trying. You should think a failure is a part of journey, you will learn something from it. It will take you to the right place. Then, it cannot be a trauma."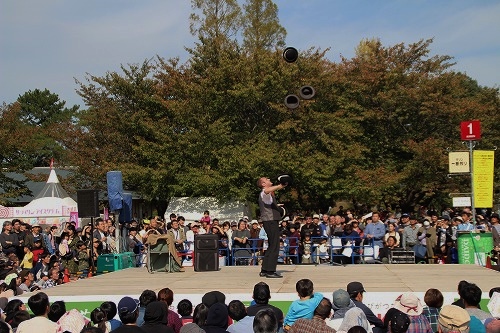 His performance will give you energy to live , philosophy to overcome a failure and make you smile.

He said that audiences in Shizuoka were beautiful and made him feel home. I wish he will be coming back and make us smile again.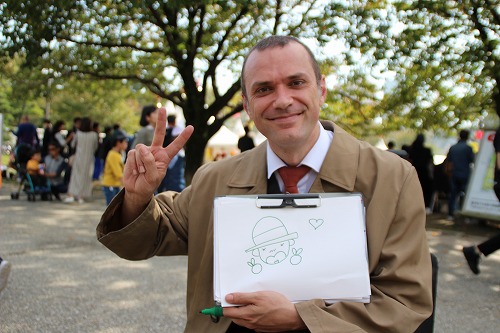 Y.K.Kobayashi
Do you remember the moment that you met your love?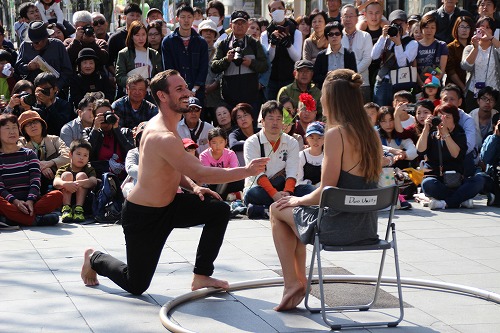 It is a magical moment. It seemed like the world is created for them. The world bless them.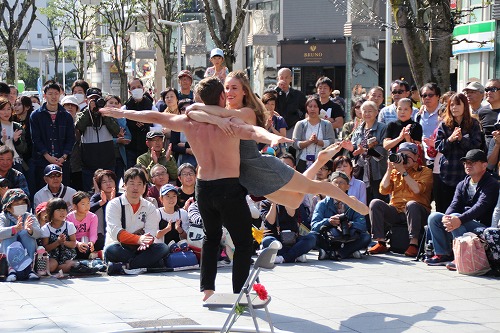 Duo unity's performance remind your first passion to your love. They play with cyr wheel. It is a metal wheel for solo use but, they decided to use for a couple. They use it as their engagement ring. It is so rare to use cyr wheel for duo, if you google it as "cyr wheel duo", you can only find their performance. They said that it takes more than 3 years to handle the wheel. After their hard training they succeeded to create such a romantic atmosphere. It looks like Venus and Ares are dancing in the heaven.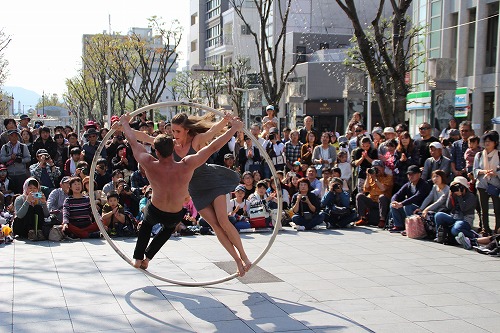 They give comments to Shizuoka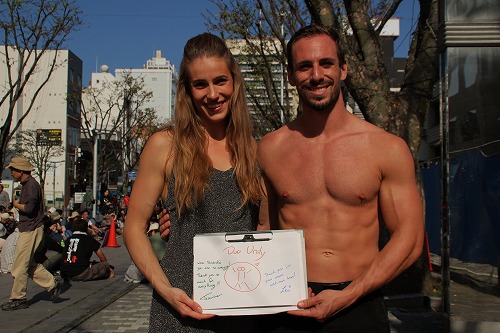 Wow Shizuoka you are so amazing! Thank you so much for everything !!! Francis

Thank you for your warm welcome here. Lea

Y.K.Kobayashi
More and more people never married in Japan.
What is the reason that I can't get married?
I'm too busy with work. The employer should reform working-style.
And the biggest problem is that there are lacking of descent men.
No! Don't excuse!
The Savior descends on Japan.
Her name is Jessica Arpin.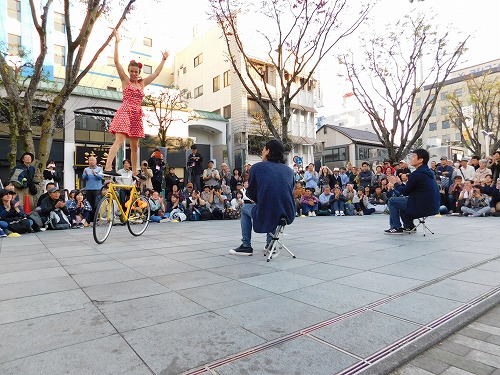 She overwhelms audience with Japanese prepared only in 20 days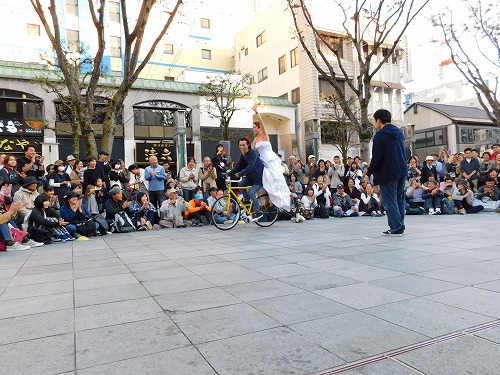 and always gets married only in 15 minutes in each performance.

Yes! I can get married, too! I can do it!
Her sparkling smile and optimistic comments make us positive.

When there is a will, there is a way.

She has been in Brazil, the States, Switzerland, Canada and Spain.
Handling sound body and strong comments in 7 languages, Portuguese, Spanish, English, French, German, Italian, Catalan and more.
Her missionary journey still continues...

(yyukke)
"So pretty!"
"Beatutiful!"

The lucky people who encountered the flower fairy were fascinated by the fantasy world created by Nikki and Tim, the members of "the Show Globe".

The couple brought 10 suitscases from the UK to make this flower globe happen in Shizuoka and it took them 8 hours(!) to put all the pieces together to be ready for the performance.

When you wave to the flower fairy (Nikki), she smiles and makes batterflies flutter. She sends a kiss and a touch of magic to men and women of all ages...as well as dogs(!).

You might wonder how the glove moves. According to Tim, there are hard-working mice hiding underneath. You might be able to catch one!

This is the first time for the couple to come to Japan and they said that they were having a good time in Shizuoka so far.

Please come and find the magic, everyone will experience a little own world of wonder with Enchanged Flower Globe. (Snowy)