Festival Report

フェスティバル レポート 2018
What do you do when you're inside a toilet? You might think about your things to do, just use your iPhone, or read a magazine. But, it's different when it comes to a professinol performer. He thinks about juggling even in a toilet. Then, he comes up with an idea that juggling with rubber cups! Juggling with daily stuffs might be fun! This is what Gili, a member of Duo Comic Casa, think.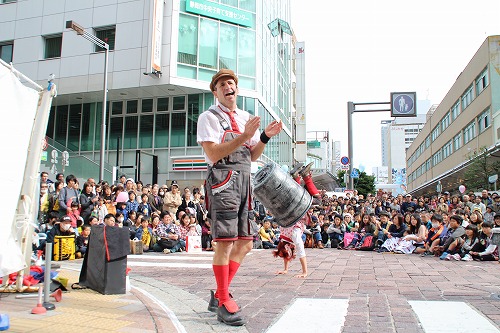 Duo Comic Casa is a duo of married couple. The husband's professionality is juggling with rubber cups. You may have seen darts with knives. However, have you ever seen darts with rubber cups?? This is what Duo Comic Casa do.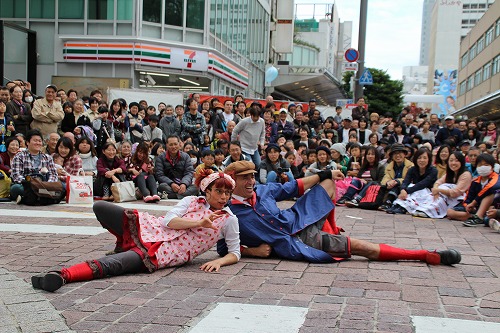 On the other hand, his wife Karin, who trained acrobat with trash can at a circus. They love cleaning up, because they are professional. Real professionals turn daily products into juggling tools. They show us new color of the world. They blow you away and clean your prejudice away! You must come to the Daidogei World Cup in Shizuoka to see their performance. Also in this kind of festival, love is all around. You might find your love in the festival. Just like Duo Comic Casa found their better halves in festival at Macedonia 10 years ago.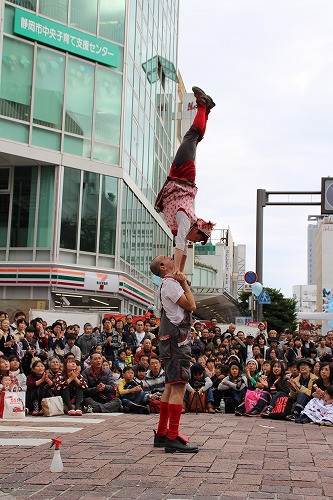 Shizuoka got a message from Duo Comic Casa.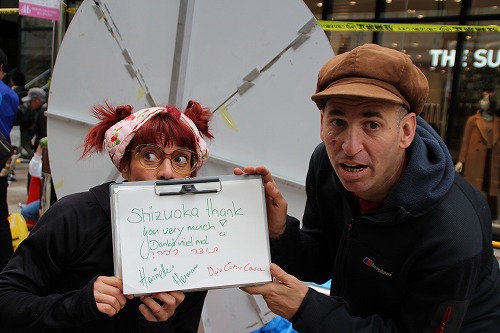 Y.K.Kobayashi
演目紹介だけで老若男女の歓声が起こるシルヴプレ。
2003年のオフ部門参加から途切れることなく参加しているだけあり、ファン層が厚い!
静かでコミカルなパントマイムと思いきや、じわじわと動きが激しくなり、
どっかーんどっかーんと大爆笑が連発します。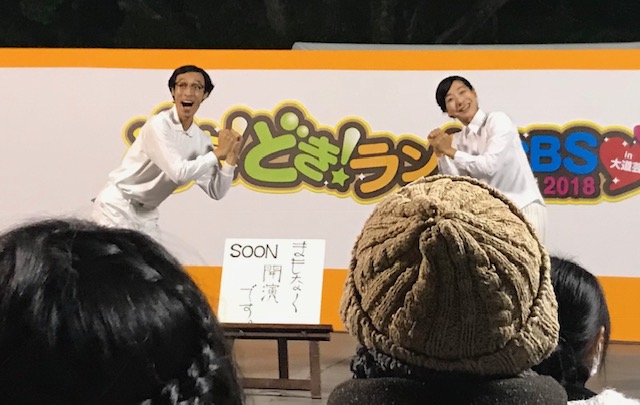 洗練されたパントマイム技術により、見えないものが見えてきて、
そのパントマイムで作り出された世界のなかで、
どんどんありえない展開が起こり、気付くと笑いっぱなし。
まさに「パントマイムは奇跡」です。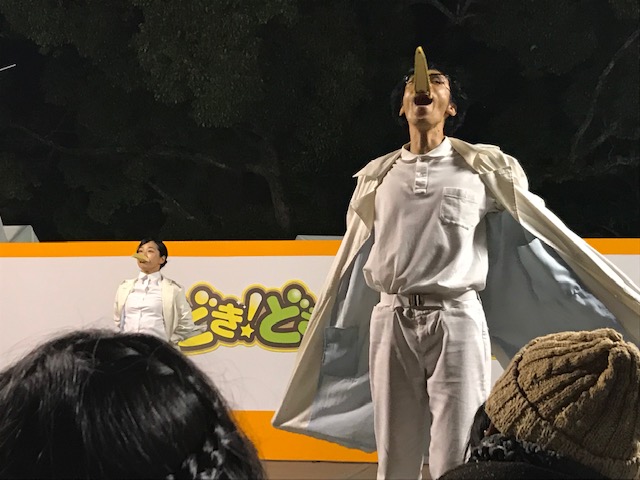 横浜を中心に活動するシルヴプレ、3月にはライブが三公演あります。
最新情報はシルヴログ「年年歳歳話相似」でご確認ください。
まもなく迎える結成20周年記念ライブ(仮)情報と
堀江さんのゆるいイラストもお見逃しなく!

(yyukke)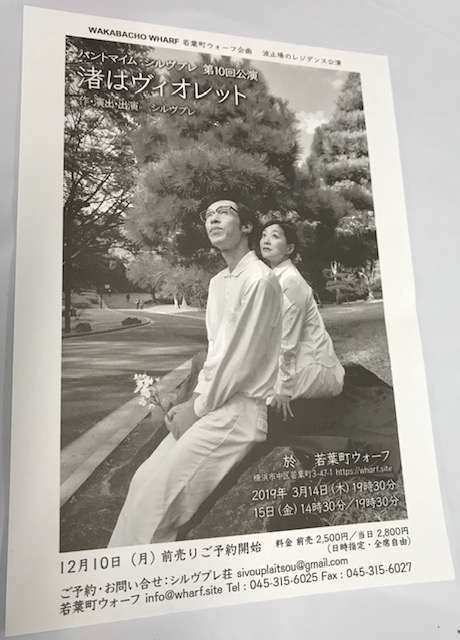 パントマイム シルヴプレ 第10回公演
『渚はヴィオレット』
作・演出・出演 シルヴプレ(柴崎岳史 堀江のぞみ)
<WAKABACHO WHARF 若葉町ウォーフ 波止場のレジデンス企画>
2019年3月14日(木)15日(金)
14日(木)19時30分開演
15日(金)14時30分/19時30分開演
開場は開演の30分前/受付開始は1時間前
料金
2,500円/当日2,800円(日時指定・全席自由/当日受付にて配布の整理番号順のご入場となります。)
12月10日(月) 前売りご予約開始
ご予約:若葉町ウォーフ
Tel : 045-315-6025
FAX : 045-315-6027
E-mail : info@wharf.site
シルヴプレ: CBA07312@nifty.com
"It's been a long time long time ago since I see your smile. " When was your last time since you laugh from the bottom of your stomach?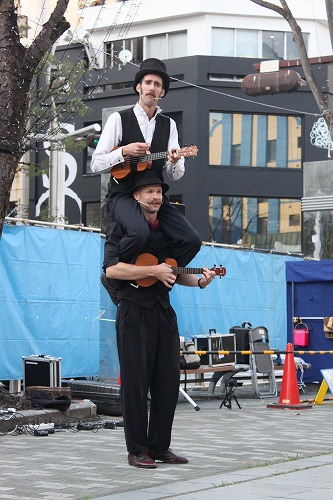 Barada Streert is comedy performer, singer, crown and acrobatic performer. Some audience said that the best fusion of music, crown and acrobat. They can play ukulele in such a strange form. It will amaze you.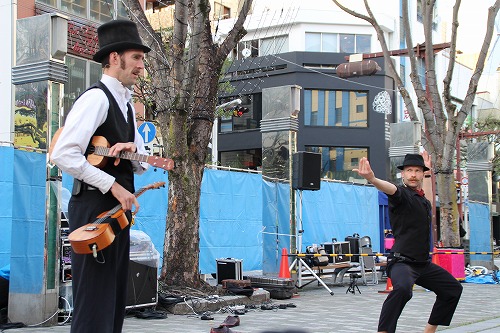 Especially, their theme song "Nantes" matches with their performance. There is no word to explain how great it is and I even asked them how they decided to play the song. Then, they said "That is because it was the only song that both of us knew! It is a kind of coincident". But, the song matches their performance perfectly and sounded like band Beirute composed it just for them. It is literally a perfect match with their show. At the end of their show Barada Street and all audience sang together "Barada da Barada da...."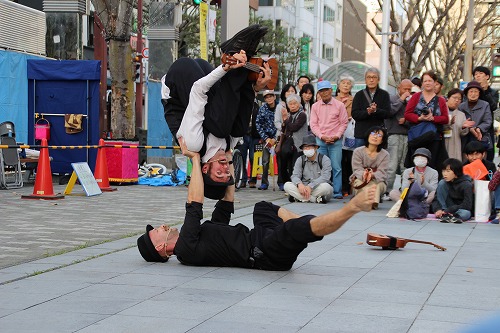 Let's sing "Barada da Barada da" with Barada Street in Shizuoka. I can guarantee you, you will love it!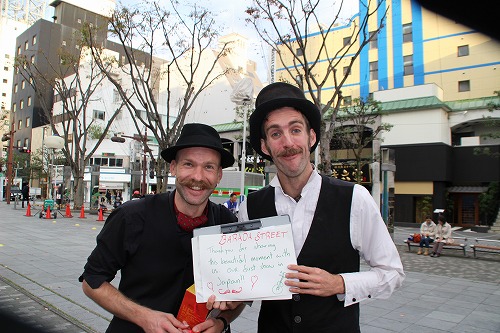 Y.K.Kobayashi
Shizuoka is a place, where an angel is coming down from the moon. In Japan, we believe that angels are dancing on the moon. 15 of them are wearing white dress and the other 15 are wearing black. On the first day, All 15 angels with white dress are dancing on the moon. It was the full moon. Day by day, one black angel is out from the stage and a black angel is replacing. So, on 15 days all black angels are dancing. The moon gradually changes its shape every 30 days. This is a Japanese version of explaining how the moon change its shape. This story is also explained in Japanese traditional opera, which is called "Noh opera Hagoromo(It means a dress of the angel)".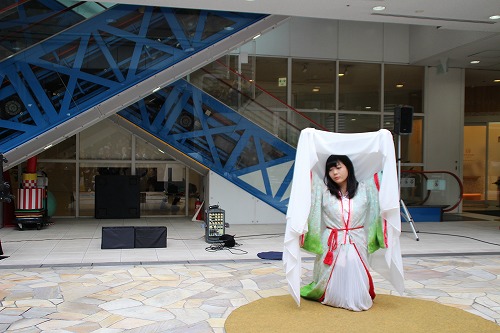 Hereby, an angel is falling down from the moon to Shizuoka once again. Her name is "Kaguya" , who is the most famous Lunarian and a princess, or I should call her withname on the earth, "Rika Megumi".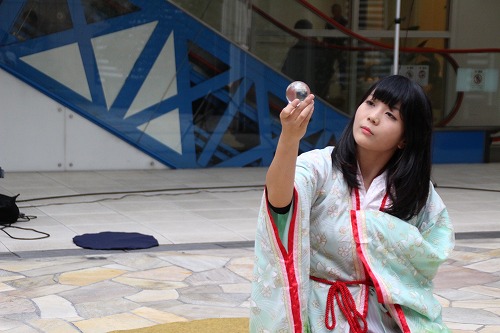 As following the legend, at first she wearing the white costume and she changes to the black dress. This time she dances with a diabolo.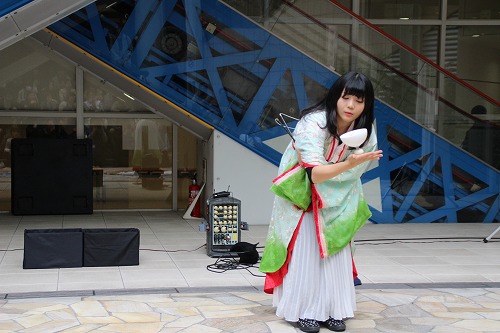 How beautiful her dance is! Maybe her dance is not from the earth, It may be from the moon. Her dance Bewithced us, Bother us and Bewilderd us.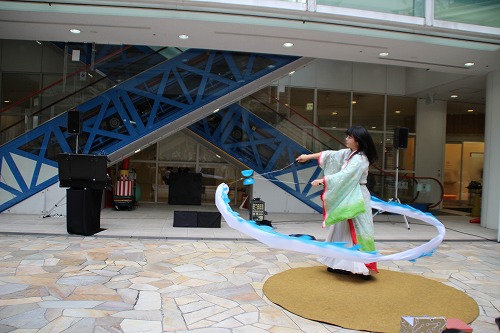 You don't need to go to the moon to see her dance. Just come to Shizuoka. Tomorrow is the last chance to see her dance this year. Her venue is just beside a department store called Isetan on Nov. 4th. I guarantee you that she magic you and you will fall in love with her. Fly me to the moon!!



The angel also give us a message." Thank you Daidogei World Cup in Shizuoka! (Rika Megumi)".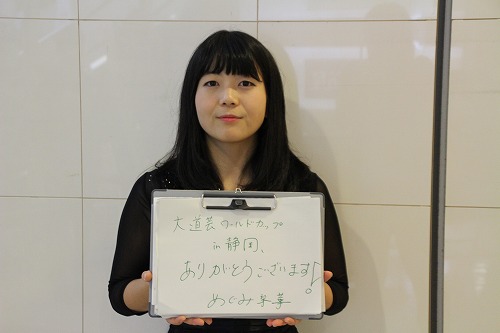 Y.K.Kobayashi