Festival Report

フェスティバル レポート 2013
Can't decide what to watch?
Well, here is a suggestion; Yamamoto Kouyou, a japanese pantomime artist.

Needless to say, a pantomime artist speaks no word during a show.
However, his show tends to deviate from this rule sometimes.
He sometimes uses words deliberlately as a spice of his performance.

From the begining of the show, there was a huge storm of laughter.
With squeaky voice, he suddenly impersonate a fly, stacked lady, and a chicken.

Of course, his marionette performance as "Charly Ymamoto" had already taken root here in Shizuoka.
As a result, he knows how to please the audience, and so does the audience in return.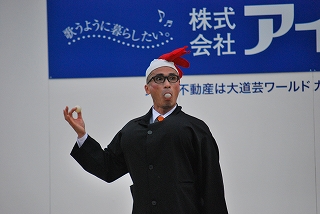 "Different from a theater stage, an open-air show must be much more atractive.
Because the audience are more likely to lose concentration compared to a theater.
So I have to be really reasonable to the occasion." said Yamamoto.

By the way, he is the person who taught pantomime to Kanou Mami, a female pantomime artist.
He said that as we've known each other more than 10 years and she knows how I perform, Kanou is very reliable.

Happenings and uncertainty of audiences' responses are accompaniment of DAIDOUGEI World Cup,
but Yamamoto's skill and his flexibility are undeniable.

So I would say, "Never go home before you watch his solid skill pantomime show!"

(Torii)
photo by N.saito
Be amazed at how fast Seoppi can stack cups up on a table!
With lightning fast reflex and excellent concentration,
Seoppi can stack up cups high in the air and back down so quickly
that you can see but cannot physically understand how he has done it.

At age 15, Seoppi first started sports stacking after he saw
a TV show at a magic shop. After 2 years of intense training,
Seoppi became Japan Champion at stacking in 2006. In the following
4 years, he competed in the World Cup to win World Championship
in 2009.

"The most interesting part of stacking is that anyone can do it,
but not anyone can do it lightning-fast."
In the world, there is no one who does stacking as a professional,
but Seoppi loves sport stacking so much he wants to be the first.

Seoppi told us that he wants to tell the audience "all performance
have distinct shape and individuality, and he wants the audience to experience
and symphatize with many different forms of art.

Come and see the only sports stacking artist in Japan!!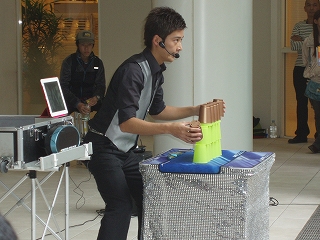 Peparonipizza
Hooperlai has appeared Shizuoka for the first time this year.Andreanne from Canada is an elegant lady, who is neatly dressed in a black jacket,a black tight skirt,black glasses ,black hat and white gloves.Contrary to how she looks,she makes a funny show spinning hoops merrily.

Three men picked from the audience develop the show even funnier.She lets them dance with swinging their hips,which is absolutely hilarious!!They walk with hooops in their hands and she gets into the hoops.Accoding to her,they are supposed to be all her boyfriends and she takes in some drama in the show and expresses a love story.

At the end, she gets hoops from a man.She invites him to thraw them toward her. Soon the lots of hoops gets around her. While she spins the hoops,she gets more and more hoops to the upbeat music. Cheerful and exciting atmosphere surrounds all the audience.At last,the hoops totalles 15!
(Uluru and Run's mommy)
A heartwarming comedy portraying the relationship of man and woman,
the pair Mie Takakuwa and Kota pantomimes how people repeatedly gets together and split.

Many of the scenes you see in a relationship that Doukyusei acts out are serious in real life,
but Doukyusei is able to portray the scenes in a silly manner to create laughter.

For instance, the relationship of man and woman are represented by a towel and a person using the restroom.
The towel(Mie) wants the person(Kota) to whipe their hands with the towel, as if the towel was the female in
a relationship and the person using the restroom was the male in the relationship. Mie hopes to be embraced by Kota
but because Kota does not wash his hands in the restroom, she is not embraced.

I interviewed Doukyusei and asked them why they use a figurative language to portray man and woman relationship.
Doukyusei smiled and told me it makes serious scenes "cute, funny, and humorous."

Making something serious become silly and funny is something only Doukyusei can do.
Come and see Doukyusei change what you believe to be serious or shocking in life become humorous.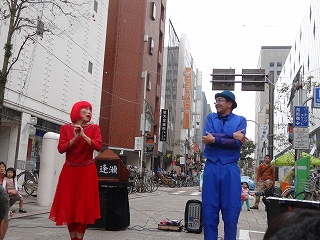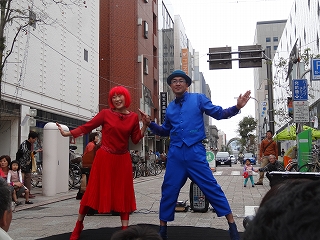 Peparonipizza
There are so many small pieces in his show, and all will be combined to be one big picture in the end.
Why don't you see his performance and find something awesome?

No one would be able to estimate what will come next --it seems to be almost miracle.
There are tons of things quite unexpectable, which makes us much more attracted.

His performance is simple but quite sophisticated. There are just music and actions.
In spite of the fact that his show is speechless, the combination of sounds and actions makes everything meaningful.
Additionally, though there are tons of things to be calculated, his show is quite easy to understand.
You would find that it will be beyond imagination --you would almost fail to even express what you felt.

"It is my pleasure if various people come and see my performance," Ikeda said.

Without watching his show in person, you won't be able to actually feel this excitement.
Check this out, and you will definitely encounter something new.

(Akari)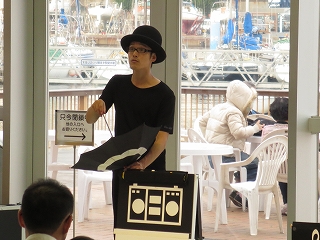 Sounds of piano, trumpet, and beautiful voice are ...... NOT enough for their music show.
A pump, tube, funnel, and saw which are ordinary tools become muscial instruments to create unusual music.
Also, ideas of four members and an exquisite, unique balance of funny and straight guys are blended into the scenario.

Then, it's time to start their comical music show!
Their perfect harmony sounds like as if they are a real family.
Familiar music to everyone, including "O Sole Mio"and "Chopstics,"
are blended with laughter from the audience creating a magical moment --
where unique instruments and the audience put a harmoneous music show together.

This is the first visit to Japan for Sterza Family and they are enjoying the atmosphere in
Shizuoka and Daidogei World Cup.
If you love music and want to laugh a lot, come watch the Sterza Family!
Be a member of an excentric music family.

(yuki, hiromi and sachi)