Festival Report

フェスティバル レポート 2015
Ikeda Yosuke,a Japnese pantomimist creates the very unique show!It's really entertaining!
Using humorous music, he encourages the whole audience to clap their hands according to his cues and invites to us to join his magical show.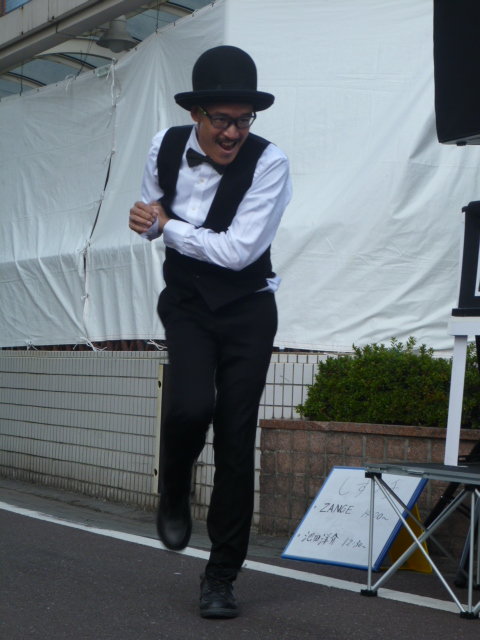 He is also a math teacher so that his show is all well planed.
You will be really amazed at the ending.

I am sure he will be the most famous exponent of the art of the mime in the world anytime soon!!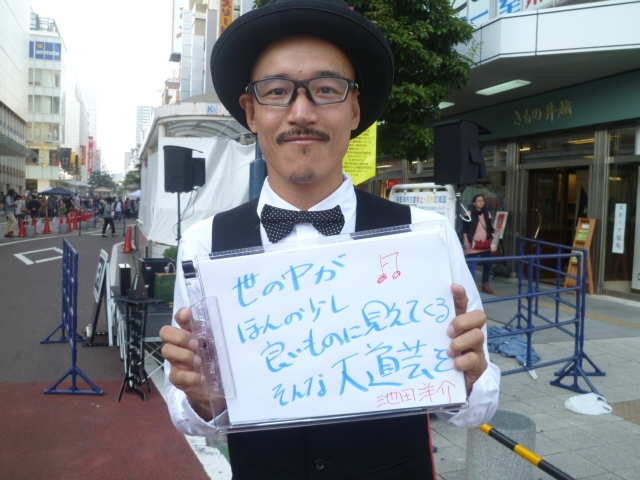 (Uluru's mom)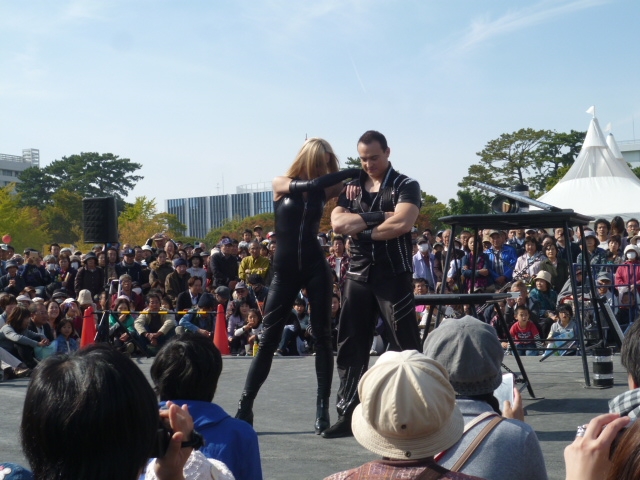 A well-built and handsome guy, Paolo Kaiser and a sexy and beautiful woman, Katerina create a really exciting show!!

They call their act "Roller Roller" and have been doing it for 8years.
Paolo's father started rolla bolla and he passed it on to Paolo.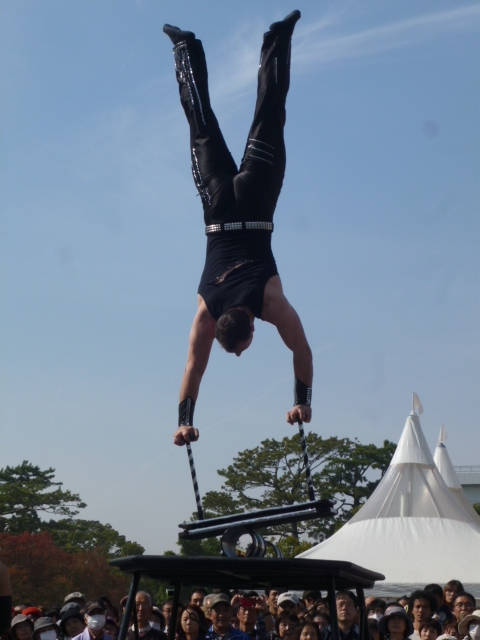 Paolo Kaiser puts a small tube on a cirqular stage and then places a board on top of it.
Of course, it's unsteady, so it makes us so nervous. He admits he feels scared too.
But he bravely stands on the board and shows us a lot of breathtaking tricks!
Katerina assists him in throwing boards (a heavy one weighs 7kilos!) to him during the show.
He jumps from one board to another board placed at a different level of the stage.
The backflip on the shaky board makes us feel soooo uneasy but is sooooo cool!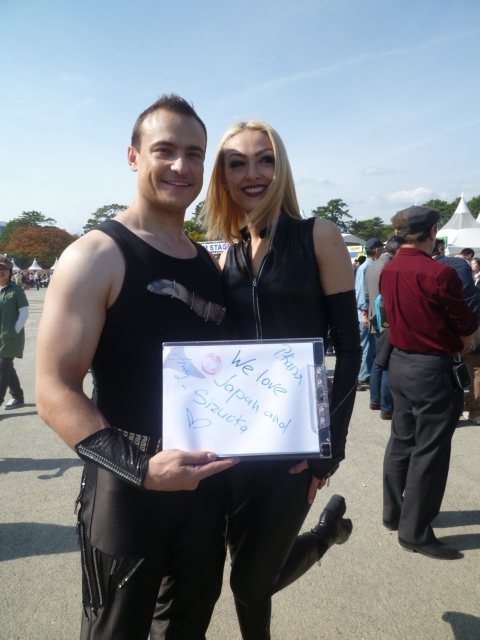 You should definitely come and see their show !!!

Uluru's mom

A lady has many faceies. Sometime elegant as an angel and the other time playful as a girl.
Charlotte succeed to express many faceies of ladys by ropes from heaven.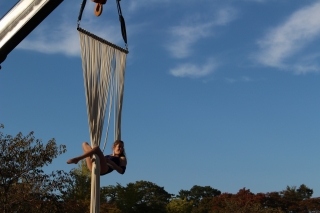 This aerial with many ropes is her original innovation.
She come up with this idea from her taraining days in Belgium.

She trained aerial, Chinese pole and hand stand in her school days and all of these techniques are comibine by using ropes to express many faces of a lady.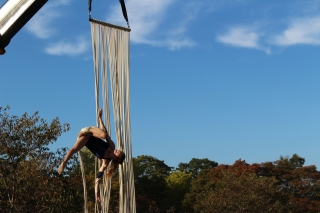 She is an angel from heaven.
She is an innocent girl who plays with her friends.

Why don't you come and see her lovely performance!

A message from Charlotte.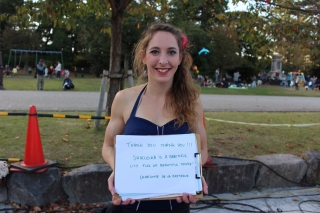 Thank you, thank you!!!
Shizuoka is a beatiful city full of beautiful people!

Charlotte de la breteque


Y.K.Kobayashi
They come out with black frame glasses to funky music. They finally made it to the ON division of the Daidogei World Cup at Shizuoka after two years in the OFF division.

Their show is mixture of balloons, juggling, acrobatics, balance and whips, the show moving at a fast tempo from one skill to the next. But even more impressive is how they use each of these in a hilarious black comedy. They expertly bring the dark side of the clown world into their performance, sparring beautifully with the audience.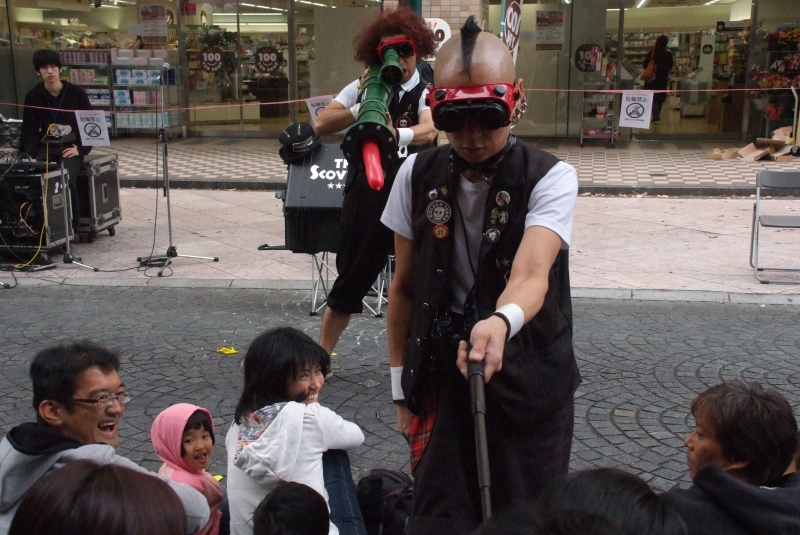 Their favorite part about Shizuoka? Of course it is the audience! Only in Shizuoka is it possible to get such a good rise out of the audience. This year they prepared a number of gags especially for the Shizuoka audience. What were they? You have to come and see for yourself.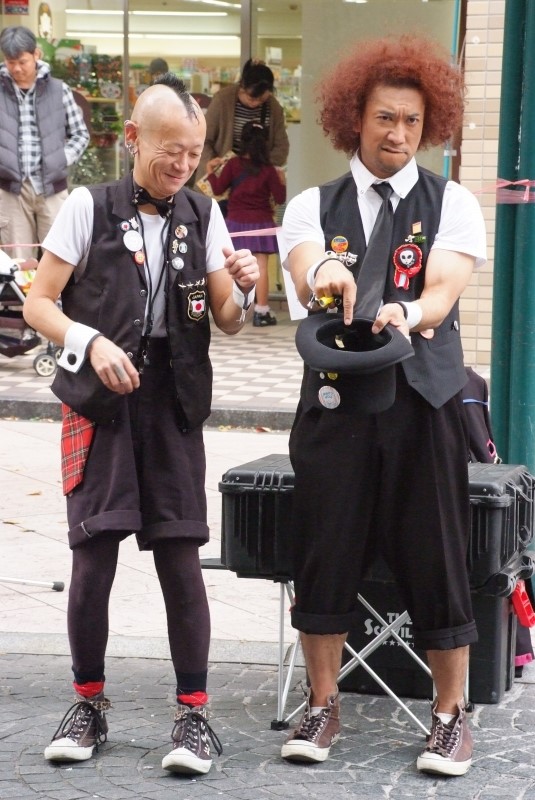 (yuuki/Mr.Jugglish)

Andrzej & Tomek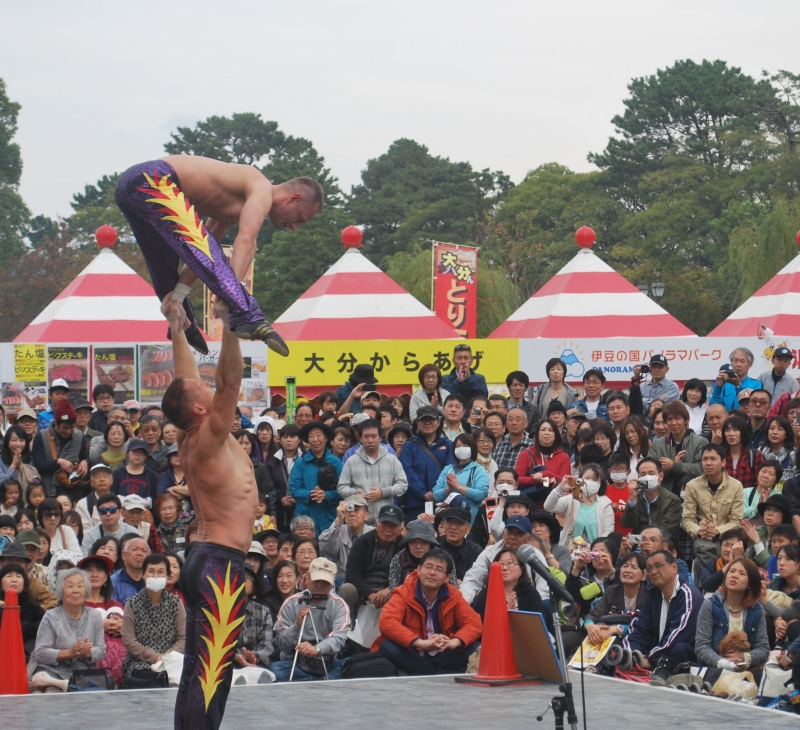 Andrzej and Tomek are two strong and macho Polish guys who fascinate us with only their trained bodies.

They started their careers more than 20 years ago when they met at an acrobatic sports club. After that, they have been performing in theaters or circuses.

Andrzej lifts up his partner on his hand or leg, shoulders and they balance on each other. Even though Tomek weighs 65 kilograms, Andrzej holds up Tomek with no trouble at all.
Their performance is perfect! It is done so smoothly and gracefully to quiet music.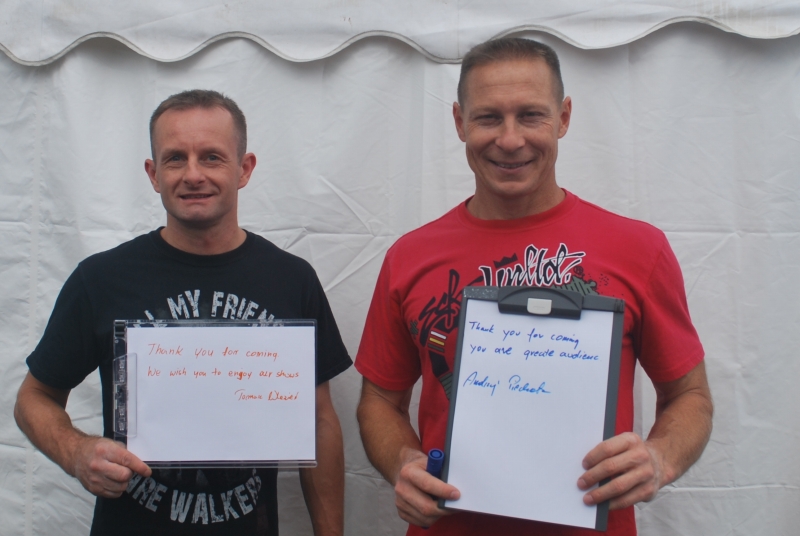 They focus on every act because it needs a great amount of concentration. Both of them respect each other a lot mentally and physically. Otherwise they could not pull off their act with safety.
Over the last 20 years, their peformance has been continually evolving as they improve their act and I am absolutely sure it will continue to do so.

(Uluru's mom)



Team Funniest are young. They are deceivingly young. At first sight it is hard to imagine what kind of performance they could offer, but it turns out that Team Funniest have been performing for over 11 years together, and they offer one of the most polished and entertaining performances that the World Cup has seen.

Their show includes a combination of juggling, physical humor, and mime, but perhaps their greatest talent is in their perfect timing and wonderful crowd interaction. Using only facial expressions and physical gestures to communicate with the audience, they brought members of the audience into their act and made them heroes and heroines with smiles all round.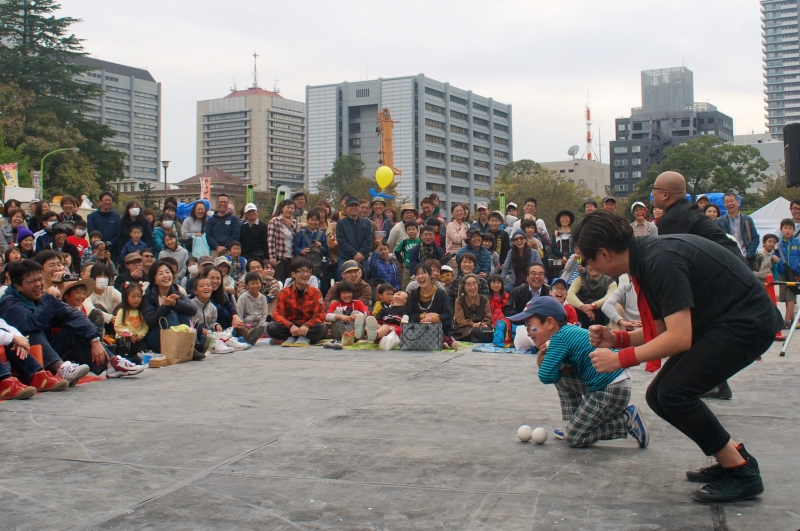 Indeed they are the funniest, and an obvious favorite with the kids, who they had laughing almost the entirety of the show, but their fan base was from all age groups.

This is their second time at the World Cup, and they are currently learning Japanese so it would be great to see them performing as regulars in Japan. Their show is highly recommeded, make sure you get time to catch it.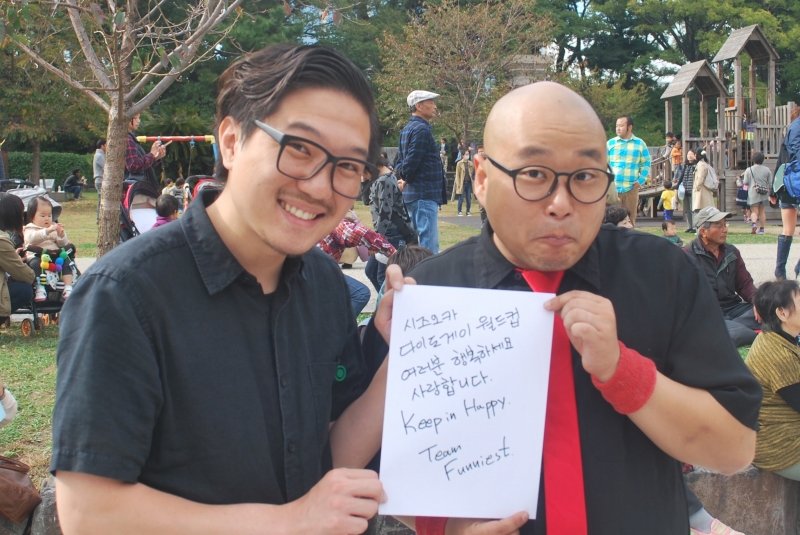 (Mr. Jugglish)


Every year the Shizuoka Daidogei World Cup begins with the preview show the evening before the main event. This years invitation only event was held Friday evening October 30 with a total of 64 artists groups, face painters, street walkers and special aerial artists given a chance to showcase their skills in front of an audience of over 1,500 eager fans, some of who had camped out the front of the theater for more than 36hours in order to secure the best seats for the show.

Performing artists are given one minute each to showcase their skills, and although this seems terribly short, it is amazing what a professional daidogei artist can achieve in sixty seconds; in fact some artists were able to win the hearts and minds of the audience in less than half that time. Regular artists to Shizuoka are welcomed with friendly smiles and applause while those making their debut are greeted with eager anticipation. Another unique feature of the preview performance is the combination of different performers. This year saw a one-off combined performance from champion jugglers Ryo Yabe, Tempei and the Kikyo Brothers, as well as a combination from Witty Look, performer KANA and Damejankoide, something that you won't find anywhere else.

After enjoying a preview of each artist's performance, I have summarized some features of this year's show you are sure to enjoy.


Feature 1 "A unique vision born from a fusion of skills"

From World Cup Division artists
④ Charlotte de la Breteque (France):A show with feminine grace born from a fusion of aerial and acrobatics
⑨ Hydragon (France):A heartwarming performance created through a fusion of aerial and music
⑬ Paolo Kaiser (Czech Republic):A performance of power and muscle created through a fusion of rolla board and acrobatics

From On Division artists
④ Utsushiomi (Japan):A male and female unit that create an artistic atmosphere through juggling and aerial
⑭ The Scovilles (Japan):A two-man unit that mixes black comedy, acrobatics and juggling
31 Yusaku Mochizuki (Japan): A high speed performance that fuses juggling with tap dancing


Feature 2 "Juggling that tells a story"

From World Cup Division artists
⑧ Francois Rochais(France):World record holder for juggling seven batons.
She juggles not only batons but also umbrellas, rings and rackets wearing an elegant costume like that of a French lady.
⑪ Karen Bourre & Mike Leclair (France):A male- female unit with a juggling show that develops like a love story.

From On Division artists
32 Mono Juggling Show TACK!! (Japan):A juggler with an incredible imagination who juggles items familiar to everyone, but unusual for a juggler.


Feature 3 "New Daidogei"

This year three completely original groups have been invited especially as part of the celebrations of the 400th memorial of Ieyasu Tokugawa to perform shows that have never been seen before in Japan.

THEATER TOL(Belgium/ Holland/Japan/Italy/Germany)
In this show angels dance in the night sky. Performance limited to Saturday and Sunday night.

ZOOMWOOZ (Germany/Spain)
A theatrical performance showing the process of creating a movie. Entry is free using tickets available at MIRAIE Rian.

DELREVES VERTICAL DANCE COMPANY(Spain)
A dance show that unfolds on the side of a building. Performing at Satsu no Tsuji in the city.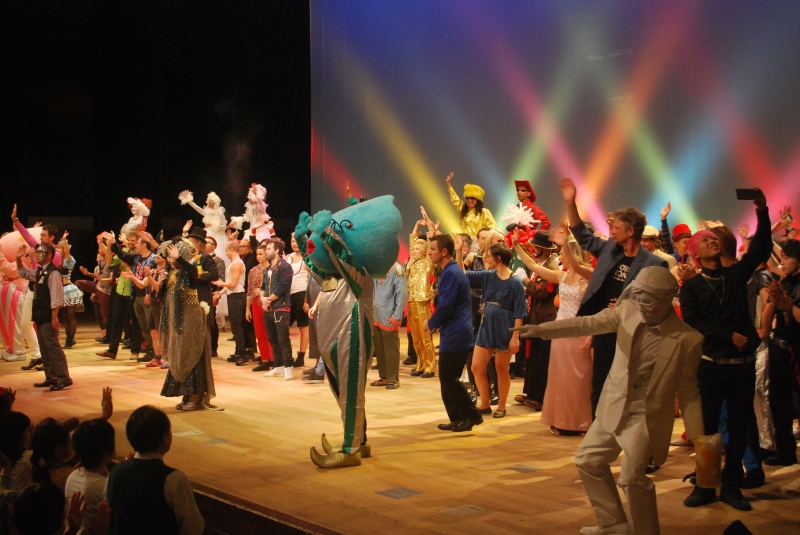 (yuuki/Mr. Jugglish)


Oblique rays of the sun in the morning and clear views of Mt. Fuji signal the coming of the Daidogei World Cup in Shizuoka.
Shizuoka citizens prepare for the festival with excitement.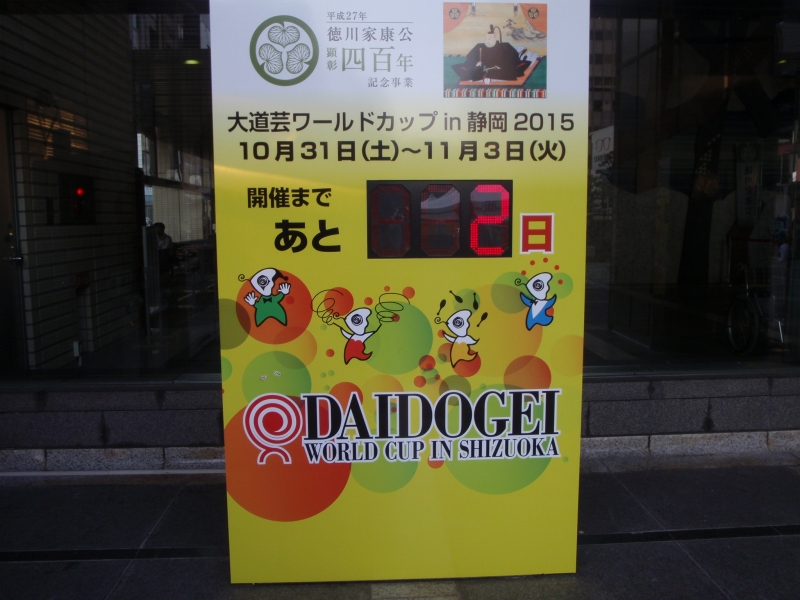 It's two days to go until the festival and some excited fans are already waiting for the performances!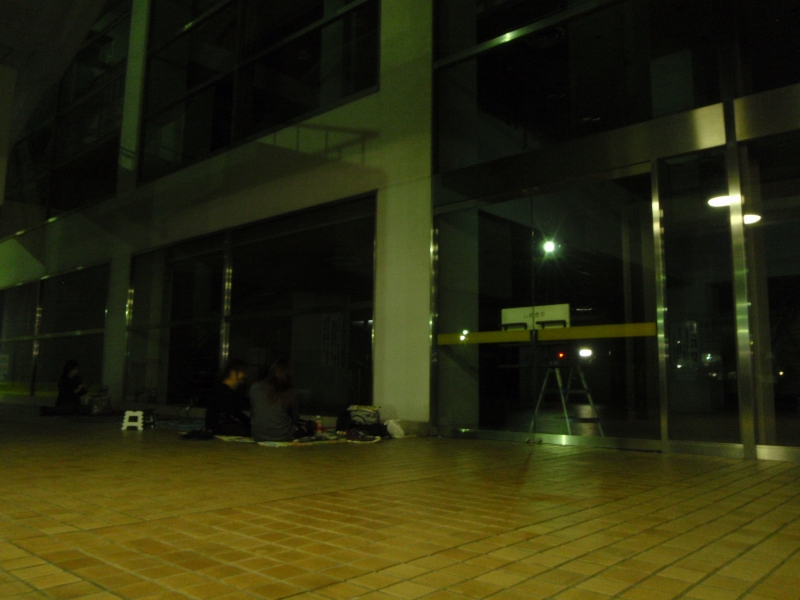 Every year, the queue appears two days before the festival, that is, one night before the preview show.
In this show, the majority of artists only get one minute to perform.
As the saying says, "Seeing is believing!" This show is very helpful for choosing who to watch during the festival.

20 hours later, just before the preview show. These two look more nervous than excited.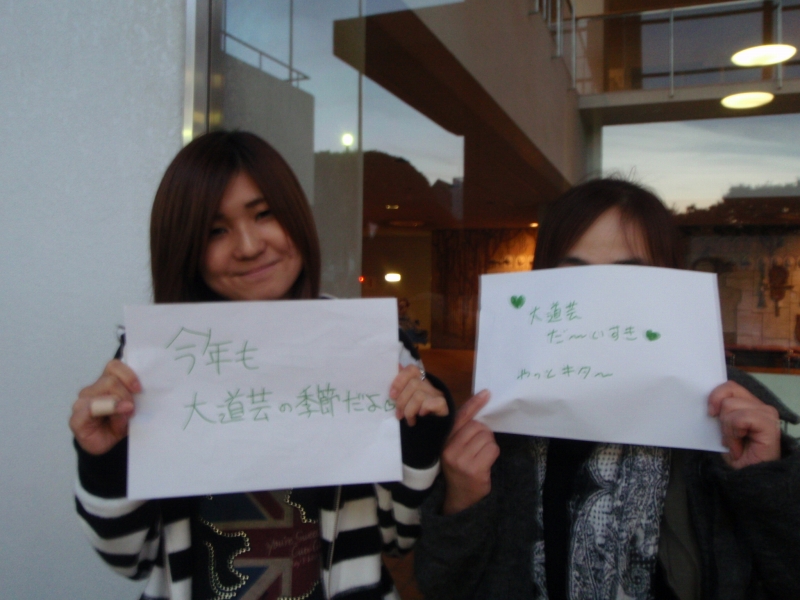 "Daidogei is coming!" "I love Daidogei! I am so excited!"
Let's enjoy Daidogei World Cup in Shizuoka!

(yyukke)