Festival Report

フェスティバル レポート 2015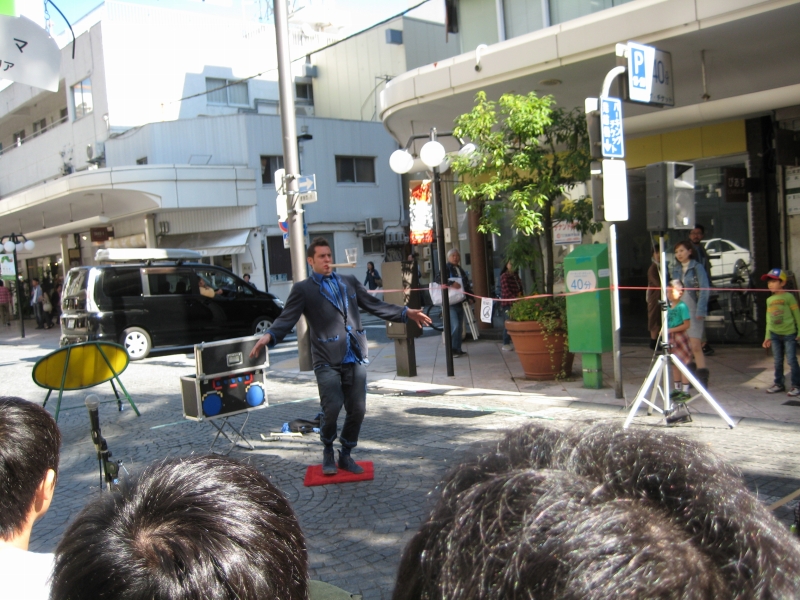 He performed with many kind of genre back ground music which are inducing the audience laugfter, whoes not only surrounded him but also another pedestalian too who are very supprised and easly falle into being costar.

The first time being at shizuoka , but normaly performes in Europe and America.
The audience is also cherfull and fantastic due to becomming smoothly costar.

Ofcourse jaggling is wondefull but also indusing anybody costar that makes a lafter by adlib commical action and let audience enjoy again.

From one of a performer of DADOGEI who Ouka said that is " very enjoyable" and from Ladies- student say that it is unusual-new style of performance.

(yuki)
Chang, LONTO and TOPPO get together in the Pleasure B clown family, in Nagoya, Aichi prefecture.
These 3 clowns are very characteristic. Audience imeadiately indivisuate the characters and expect what happens next.
Especially Chang stand out for his character. LONTO and TOPPO warmly watch him.
Chang acts as if an premier danseur and sometimes plays the flute.

PLE-MIX has been performed in various contries.
For them, eating is very important. They always enjoy various food during various festivals.
In this festival, their favorite food is "Shirokoro innards" in Sumpu castle park.
We should find and try it!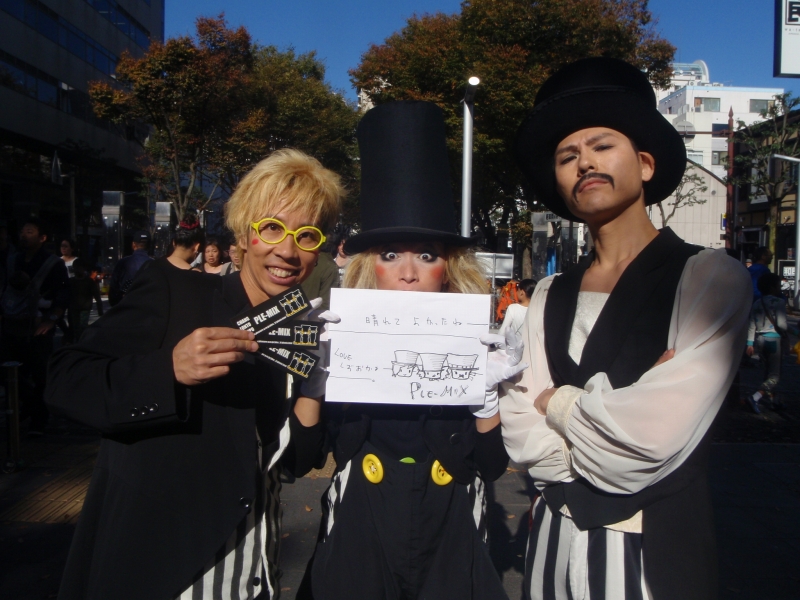 Everyone is happy with this sunny weater!

(yyukke)
Utsushiomi is comparatively new team since 2013.
This is their first time to perform in Shizuoka.
Utsushiomi consists of Yosuke Meguro, juggler, and Aimi Hasegawa, aerialist.
The encounter of the two specialists provides such a unique and lovely performance.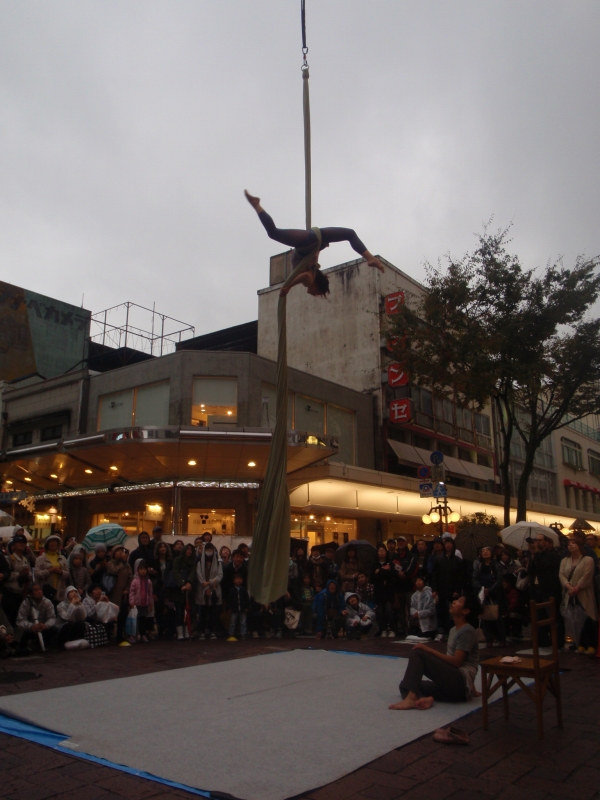 Utsushiomi means mortal people.
Their name is written in Hiragana, which makes Japanese feel softness.
The atomosphere of their performance is also very soft, supple, and peaceful.

It's impossible for me to give an explanation of them.
Please come and see them!




(yyukke)

correct: Utsushiomi
incorrect: Uthushiomi (guide book p. 33)
sorry!
Find blue aerial silk, you can see Aurelie Dauphin, France.
This is her first time to perform in Shizuoka.
She is not just a solo aerial artist, but also a member of OVO, Cirque du Soleil.
The combination of these various activities all over the world inspires her to create works of aerial art.

"Dauphin" means dolphin in English.
A beautiful dolphin swims freely in the ocean, then...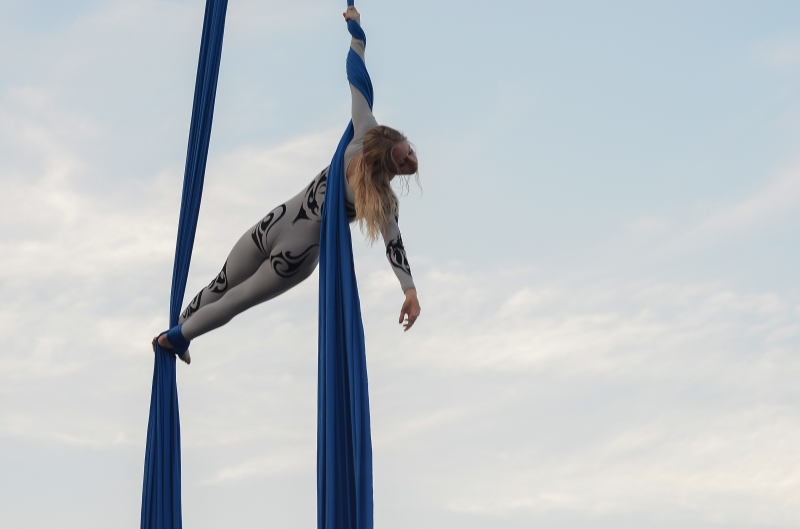 photo by rangga

When we interviewed, she couldn't perform because of the rain.
She gave a hearty message to everyone.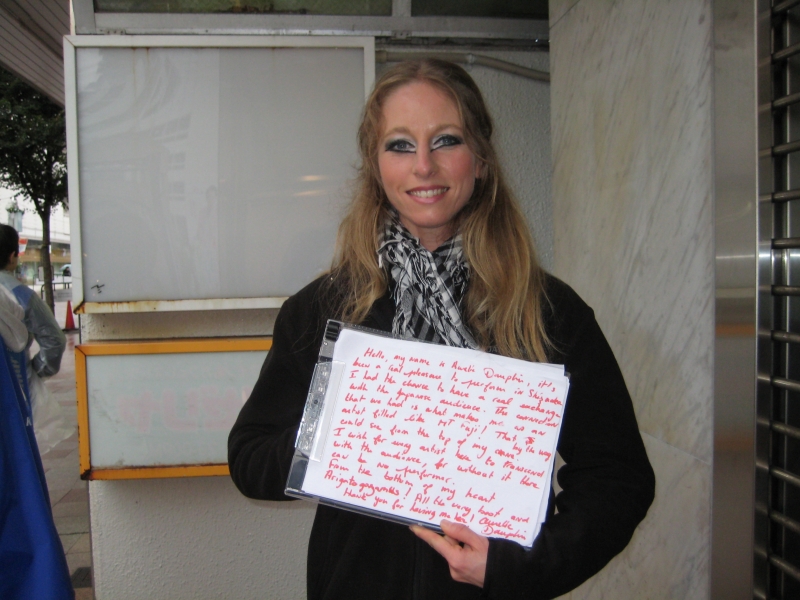 Hello! My name is Aurelie Dauphin, it's been a real pleasure to perform in Shizuoka.
I had the chance to have a real exchange with the Japanese audience.
The connection that we had is what makes me as an artist filled like Mt. Fuji.
That, by the way, could seen from the top of my crane.
I wish every artist here to transcend with the the audience, for without it here can be no performer.
From the bottom of my heart Arigatogozaimasu! All the very best and thank you for hearing me here!
Aurelie Dauphin

(yyukke)
Please see the picture below.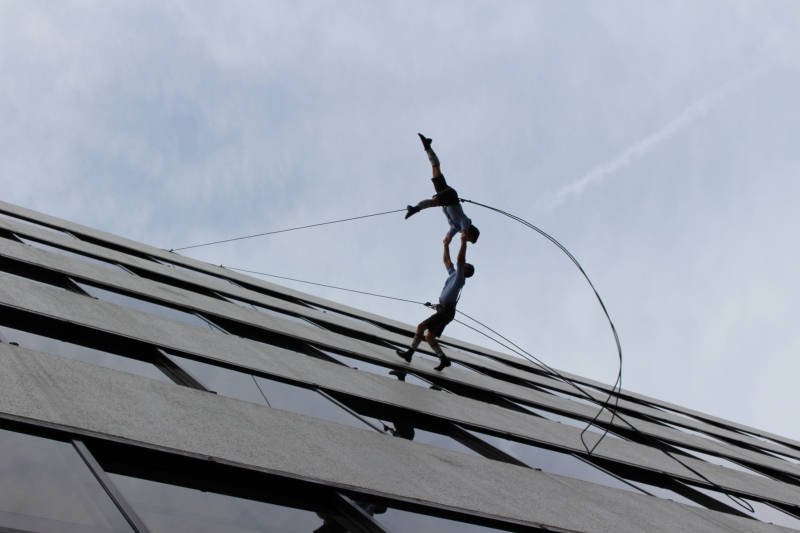 What are you think about that?
A couple is dancing but, they are completely defying the law of gravity.
All the matters are controlled by the laws of nature, gravity.
How a human can defy it?

I give you another picture.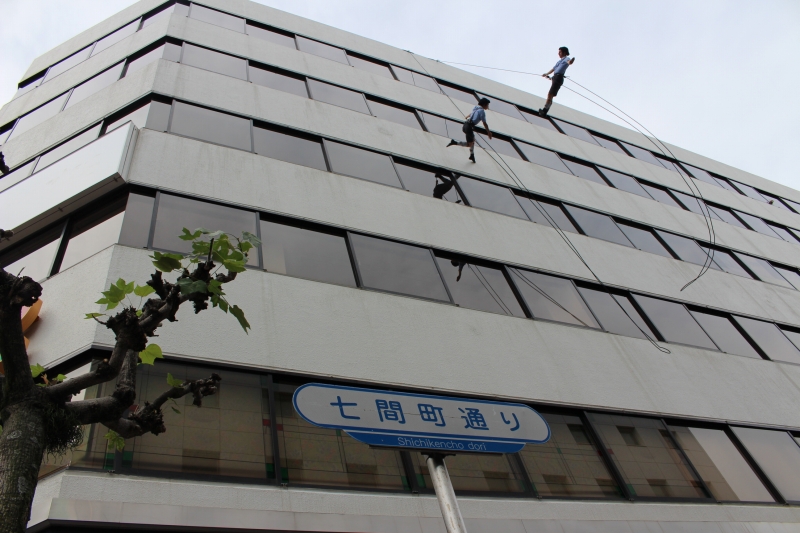 They are dancing on the vertical wall! How daredevils are they!
However, this vertical wall allows them to dance with a different dimension.
Free for everything!!

Delreves vertical dance company is a dancer duo from Barcelona.
They come up with an idea of dancing on the vertical wall to find another kind of dance with mixture of architecture.

I swear their dance is completely new and you have never seen such a dance before.
After watching their dance your brain may confuse.
A world on the wall is a real? Or a world on the ground is a real?

This is there first time in Japan! You can't miss it!!
You can fly with them!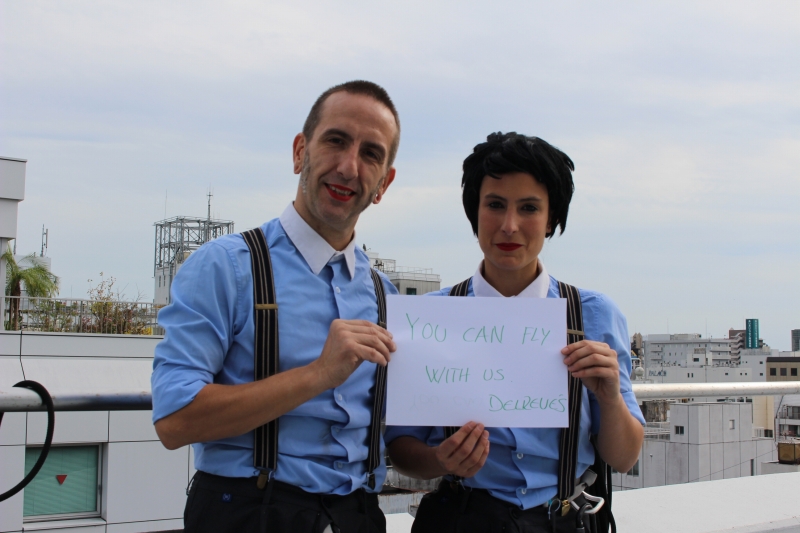 Y.K.Kobayashi
Damejankoide is one of the most popular artists in this festival.
This is the 23rd time he has performed here.
He started his performance as a clown, performing under the title of the "Blue Sky Acrobatic Theater Koide Naoki".
After hundreds of performances, he changed his style from acrobat to narrative art.
"koide" is his family name. "Damejan" means "not good".
So many fans are addicted to his comical narration.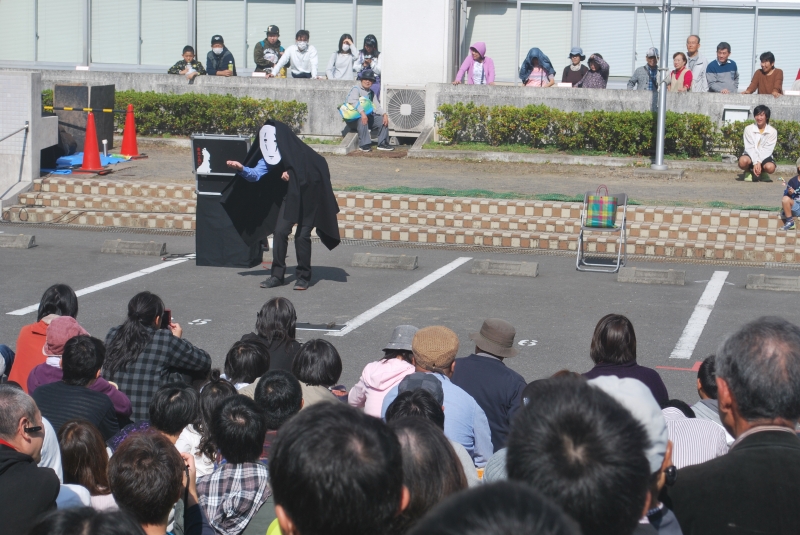 He is famous for his severe criticism of politics and finally he ran for a member of Ohta ward (his hometown in Tokyo) assembly, last April.
Unfortunately he couldn't win the seat.
It's no doubt that he could obtain more votes in Shizuoka city than Ohta ward,
but he loves his hometown and wants to start his career as a politician in his hometown.
But there would have been no shortage of fans relieved to hear about his loss, because now he can continue his performance the same as always.
Today, he promised that he would continue to perform as always, even if he becomes a member of the assembly.
Please don't worry about that and support his campaign next time!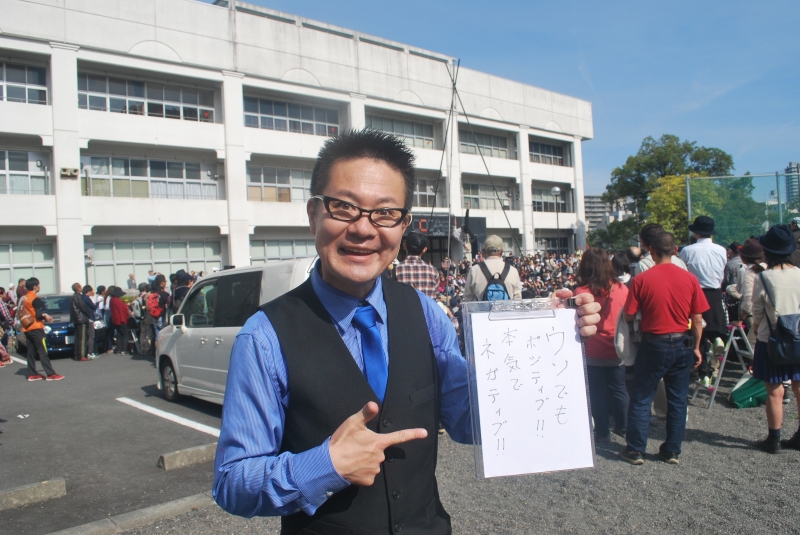 (yyukke)

A world-champion juggler originally from Shizuoka, Mochizuki is glad to be back at his favorite juggling festival, the Daidogei World Cup in Shizuoka. This year he has come up with a special routine just for the festival.

Mochizuki traced the history of the diabolo in Japan back to the Muromachi era in the 14th Century. Before that time the diabolo was limited to the aristocracy, but it wasn't too long before it found its way out onto the street, and was taken up by street performers of the day.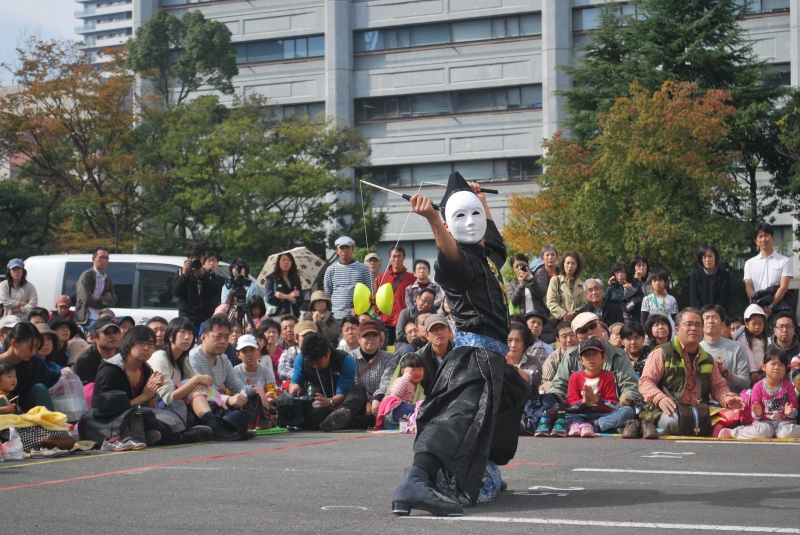 Mochizuki merges this history into a sublime performance of diabolo and tap dance. The crowd picks up the rhythm of the beat and joins in, bringing the dance and diabolo to fever pitch.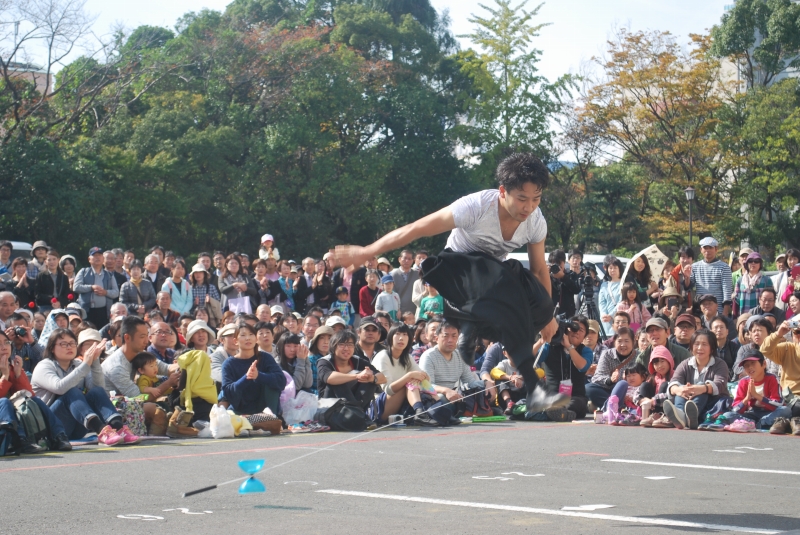 During the night version of this performance, images of the performance mixed in with historical texts featuring the diabolo are projected on a screen placed behind him. It is a faultless performance of a truly original production.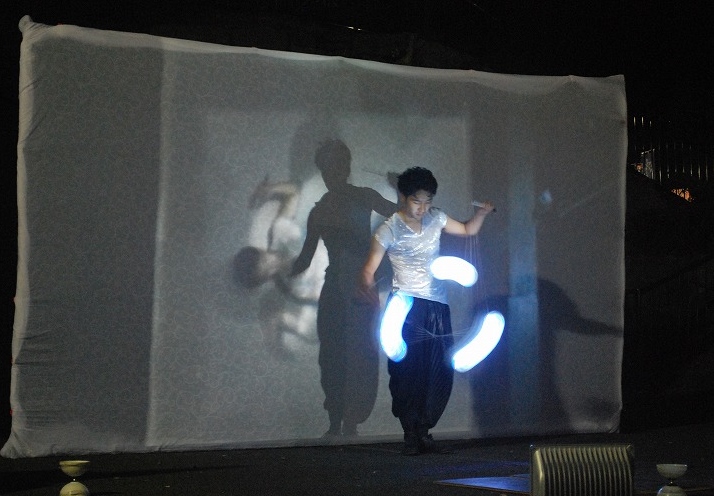 This is something that has been created especially for Shizuoka, so don't miss your chance to see this incredible piece!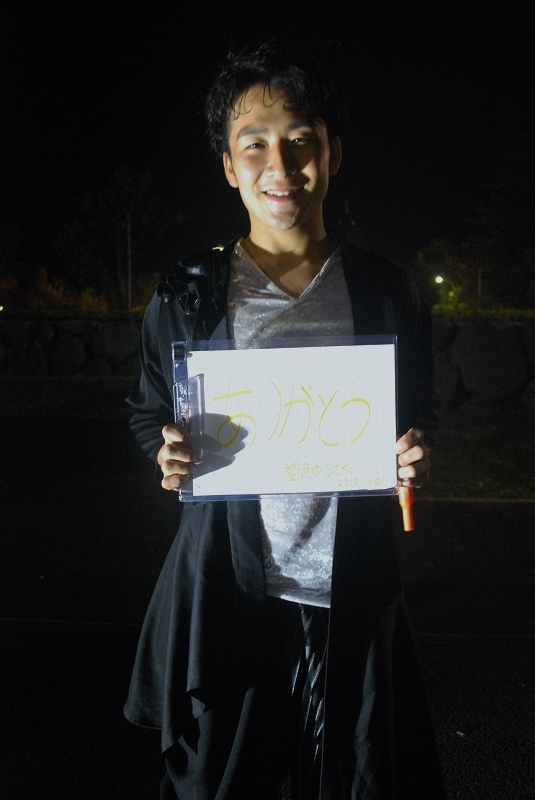 (yuuki/Mr.Jugglish)
Moving with the music toward the center of the stage, the angels float upwards as if pulled by the song.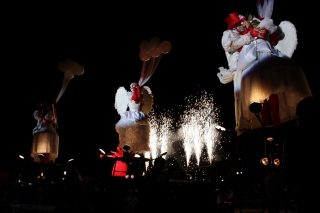 It must be an illusion from some kind of fantastic dream.
The combined performance of the music and the dance creates something of spectacular beauty.
Has there ever been a stage as beautiful as this!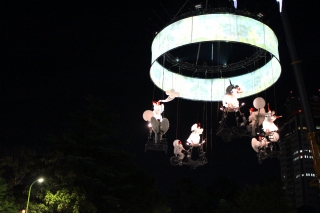 The angels dancing in the night sky send down their love in every direction to the grateful spectators below.
In Shizuoka, where the legend of the celestial swan remains, the swan has changed to an angel and is dancing once more.

This 45minute dream in the autumn sky will only appear once more tomorrow night. Don't miss your chance!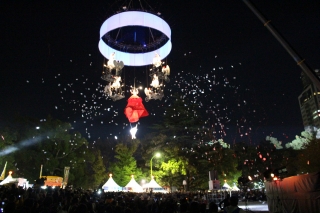 (Mr. Jugglish/ Y.K.Kobayashi)
There were so much of the audiences in front of Shizuoka-station before their show begins.
Kebo and Chris appeared with special black suitcases filled with various tools which evoke laugh.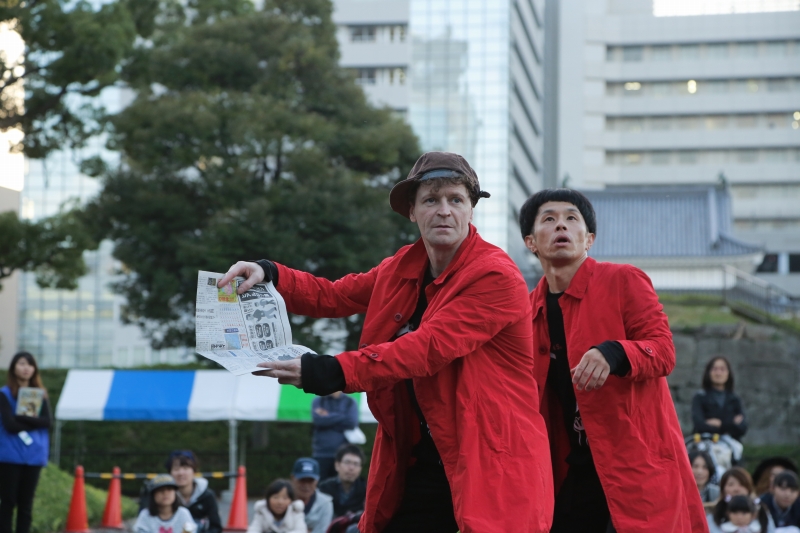 photo by K.Umeno

They sometimes pick up a person from audiences and let him participate in their performance. This triggers drawning all the audiences to their world. They are genius of unifying with the audiences
Everytime they show something, laughing occurs. We cannot get out from Funny Bones !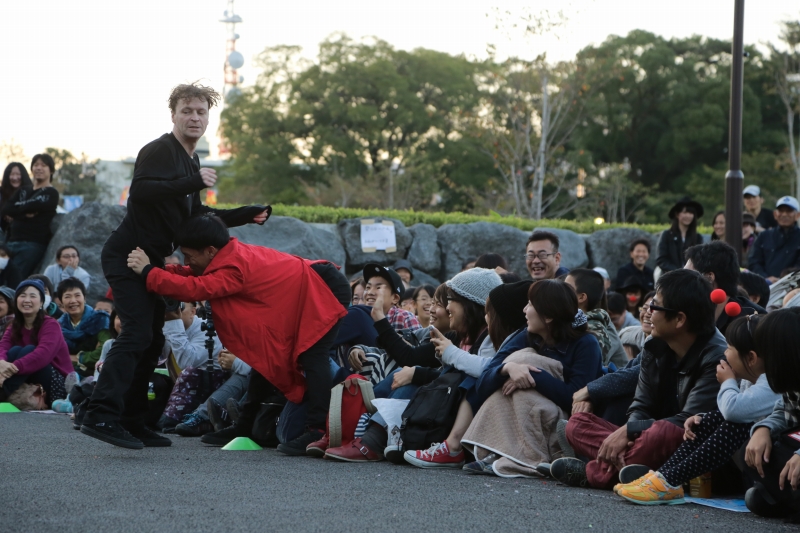 photo by K.Umeno

Their performances are not only about juggling, magic and puppet. Every small things around the stage makes laugh.
Their performances are mainly non verbal, so they can hold the show all over the world.
Therefore "No Border"!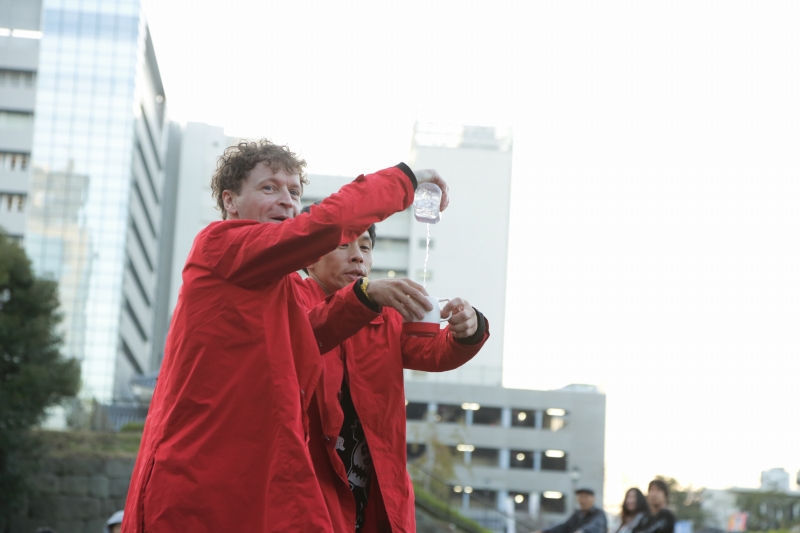 photo by K.Umeno

Let's jump over border into their world!
(TatsuKen)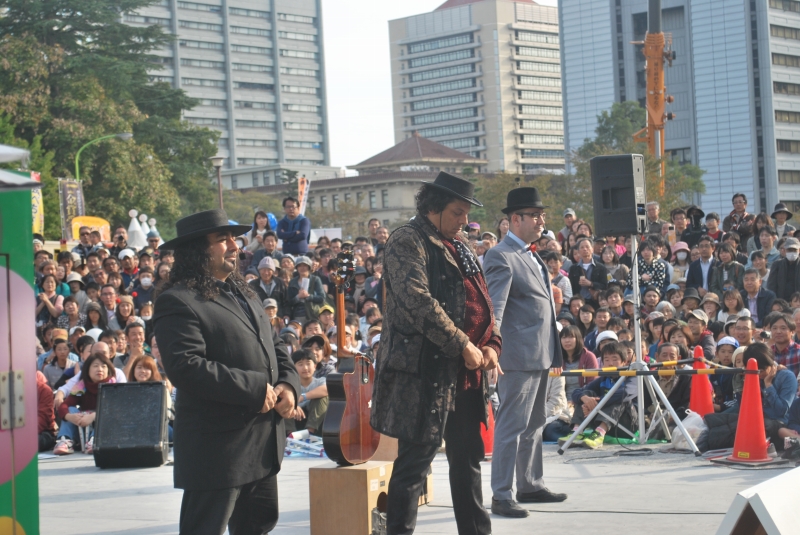 Attracting one of the biggest crowds at Daidogei World Cup in Shizuoka 2015 is Lost Locos! Ole! After taking out the Championship in 2014, this year they are back as Special Guests.
The trio present a unique musical comedy interspersed with incredible acts of juggling. The tension between the artists ebbs and flows as each presents their case as the best musician, as they fight to win the love of the crowd. But although they start out fighting separately, they always finish together in a beautiful musical symmetery.
But one thing is for certain, as could be seen by the long lines to capture their autographs after the show, they have completely won over the crowd here in Shizuoka.
As an added note, despite the huge number of people that queued up to grab an autograph after the show, they chatted and took photographs with every single one, putting kids on their shoulders and hugging people and dancing with grandmas. Make sure you line up early if you want to watch their show.

(Mr. Jugglish)