Festival Report

フェスティバル レポート 2011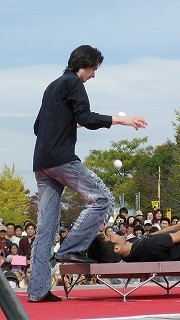 Alan the 2006 World Cup champion is back !
He performed in 2009 the last time but the big audience was more excited than before.
I think that Alan is the one of most unforgettable artists (especially for women?).

Using Irish dancing steps, he showed his bounce juggling with 9 balls.
It was very quick just like he filled people's hearts with a refreshing breeze.

After the performance he looked very relaxing always with a smile in "the second hometown"Shizuoka!!

(Eri)
A lot of her Fans came to see her, Princess Elyane.
She is only 18 years old, but her style as Pro capture the hearts of her audience.

She told us her next goal is 'Be more Famous.'
'And she wants to travel, meet a lot of people from all over the world,' she said.
She will achieve her goal, because her family supports her very much.
She told us thet all costume is handmade by her mother.
Also the start of her favirous famous performance, Archery, was the idea from her father.
The episode was that her father found one of a picture in the restaurant,
and he made suggestion to start the archery, because the picture was beautiful and intresting.

You can't miss this Archery performance if you came Daidogei!

(Su A)
The world cup department champion 2001, Dan Menendez is back!!
He said that he is really glad to come back this festival again and make people happy.
All of a sudden, he starts checking his electoric piano by throwing juggling balls to the keyboard.
Although, at this point, he draw all the attention of the audience already, this is just the beginning of his unique show.

He has been performing as a professional performer more than 30 years.
The reason he wanted to be in this busking world is that he got inspired by his father who is very famous for coaching Muhammad Ali.
His father was also doing magic when Dan was young, which inspired Dan to be a performer.

"What do you think about the audience in Japan?"
"The audience is very different from what they used be. When I came to this festival last time, 10 years ago, people didn't show their
feeling like they do now. They just stared at me performing and they were very quiet even if they were laughing.
But they are more open-minded and laughing than before.
They express their feeling more, which is very good for performers. This is the biggest difference I've got."

The more he throws the balls, the more music plays beautiful melodies.
His action and rhythm is comical, funny and very comfortable so that we can watch it again and again.
Why? Who knows!?

The moment he finished his show, I couldn't believe that he had been performing it more than 20min.
Yes, I was totally in his world as if I was dreaming.
If you love music and juggling, this is the one you can't miss.
So let's play music with him!!

Juicy
NINO is the champion of the world cup department in 2007. The feature is his very high tone voice.
He tricks some audiences and asks them to help him. That makes the performance so funny.
You can't guess what he's going to do in the next moment. He gets one's joke across to the audience for running high.
The audiences don't understand what he's saying, but it's interesting very much. Feeling over the festival run high.
You should come and see it!

(aya,bingo)
Before the Preview Show of Daidogei,「Performing Art / the international Convention」 was held at Granship in Shizuoka.

At this convention, 3 guest speakers performed.
・Amelia Lemay, Counselor for International Affairs Asia-Pacific and Mexico Departmaent for International Affairs
and Intergovernmental Relations Ministry for Culture, Communications and the Status of Women, Quebec
・Claude Bourbonniere, the president of Cirque du Soreil Tokyo
・Otani Iku, the president of the NPO 「Dance Box」
Guests talked about 「the relationship between art and people」from each position.
Ms Amelia performed from the position of government, Mr Claude performed from that of commerce
and Mr Otani talked from that of both of dancer and the president.
It was very different viewpoint.

At the last, Kouga Masaaki, the producer of Daidogei world cup committee played a cordinator
and discussed about「the Art and City Revival」with 3 guests.

And sometimes the scheduled time was exceeded, because the contents were so serious and they discussed deeply.
Although this convention was 3 hours, we felt this very short time and were interested a lot.

I was surprised that 3 guests have the same thought about 「Art activated cities and people」.
Daidogei is meaningful as not only the performance event, but also the city revival project.


(Su A)
Daidogei preview show was held in Grandship near HigashiShizuoka st. on 2nd Nov.
A lot of people were looking forward to seeing the show.
Even some audience made a line over night to get a good seat.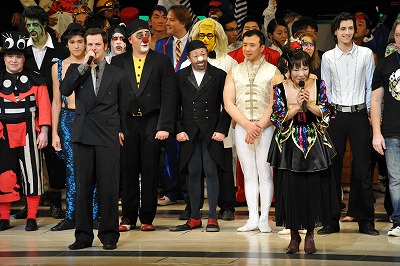 All the performers of 87 groups and volunteer clowns gathered together there and 59 groups of them performed on the stage for one minite each.

The performers, volunteer staffs and ordinary people are going to create the Daidogei World Cup together from 3rd to 6th Nov.
Now it's time for Shizuoka to be a marvelous theater.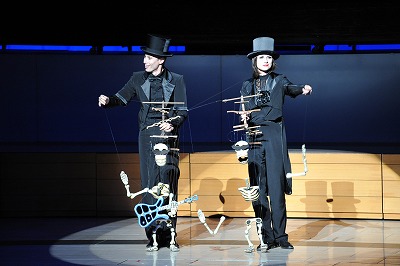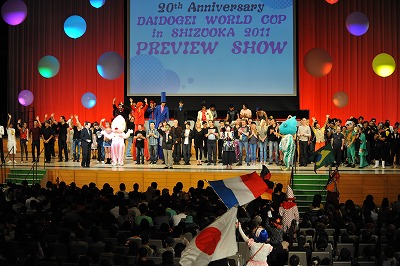 (Romi)

photo:Kunihiko.U