Festival Report

フェスティバル レポート 2010
His familiar pantomime "Charlie Yamamoto" is upgraded every year and new performance "Ashika-chan" is debuting in Shizuoka.
He said, "Here in Shizuoka, I always try to show the new entertainment. Because I can get an immediate audience reaction in Shizuoka. If Shizuoka people did not like it, it's would be not good everywhere in Japan."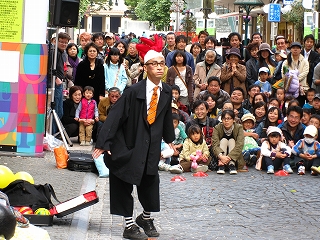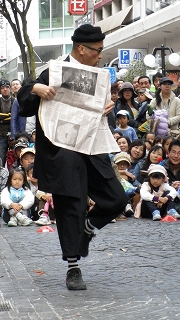 In his career, he joined Rakugo club in the high-school and did acting and then got to learn pantomime in the USA.
In recent years, he works as an actor, for example, he appeared on stage of an opera.

(Eri)

A couple, Vicki from England and Wibbe from Netherlands performs an acrobatic show.
They use a 10 meter white cloth and a just ordinary chair (bought in IKEA).
They climb the white cloth high up and wind it on their legs or arms.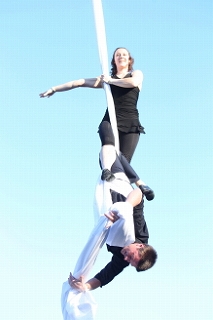 Their show is a romantic love story in the air wih a gracefull piano sound.
They say they want to show not only acrobatic performance but also a performing art to audience.
YES, IT IS THE ART. That is a beautifull art in an open-air theater.

(uluru)
In the premium night show, the photos of Damejan Koide and
Thank you Tezuka
20 years ago were captured on the screen last night.

A leader of camera staff called Ume-san was depressed
not to be asked to use his photos.
He claimed that he has much rarer ones!
He has been taking photos of Daidogei for 23 years.
If you ask him something about this festival, you can get almost
any information you want.
He even informs you some additional old story.

He has a lot of treasured photos of Daidogei
which Daidogei fans would be eager to see.

There is a rumor that the artist who was taken photos by him
is recognized as an artist of first class...

Who is going to be taken a photo by him?
He is looking for a target and that might be you!?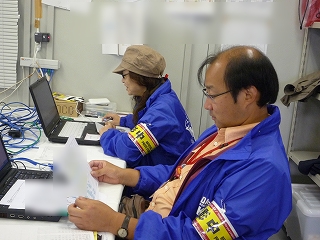 (あや)
Wearing exotic clothes, Pote, whose hairstyle is like a pineapple
takes us to a nongravity world!

In his show, a crystal-clear stick goes up in the air,
and the silver hoops seem gravityless.
Also, his unique item named Bugen moves like a creature
and it looks so creepy. He smiled and said that
words like "creepy" is the best praise for him.

If he controls his favorite trick "contact balls",
it starts to spin around as if they are living.

"I want to perform without throwing things," he said.
He is may be a nongravity magician.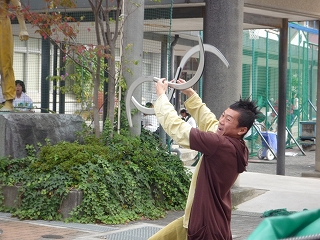 (Kana)