Festival Report

フェスティバル レポート 2010
YUSUKE ITO who has 10 career Kendama championships of Japan.
His kendama show is good old-fashioned style, wearing blue Kimono and playing Kendama with the traditional Japanese instruments of Shamisen.
Since he began to play Kendama with his brother at the age of 7 and then he has been improving in Kendama school like sports.
He mixed his own unique and inventive tricks with Kendama.

Today, it's 3rd day of the event, the more he showed his excellent kendama skills, the audience had been very excited with a big applause.




(Eri)
These two female clowns from France are trapeze artists.
They wear cute costumes and make-up, which they do on their own.
The bar itself is 8 meters high and the swing is 4 meters high.
It looks really high.But for them it is not scary at all.
The show is made playing the accordion.With the nice,amusing sound of accordion,they perform astonishing feats in the air.They develped acrobatic feats in a circus school for 2years.
They started performing with a trapeze because they had longed for when they were little.Then their dreams came true.
They say "You can do that,too.Only if you are highly motivated."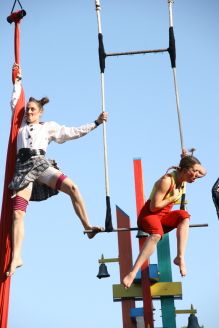 (uluru)
Various fantasy is never behind in this year too.
KAMIMARO has been performing as a magician
over the past 10 years.
He wants to express fantasy of a picture book in his stage.

By the way, do you know why his costume is only red?
Accroding to him, he represents the fantasy abstractly.
So you will find that he is one of the fantasy pursuer.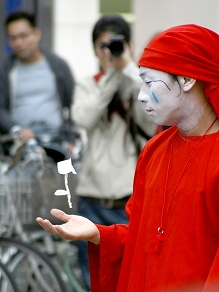 I thought he is a shy guy, however he wasn't.
He is very frank and surprisingly he likes ROCK'N ROLL!!

(N.AYRI)

"For me, the most important thing is to connect with people," Miss Kurikuri said.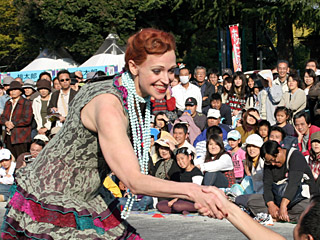 She creates her own world in her performance, and invite audiences there by saying "Welcome to my party!"
She have worked in many circus campanies and peformed in some burlesque shows. She has various circus skills as silk performance, juggling and weel.

She attracts people with her charming smile and cheerful singing and dancing. Her costumes and backgroung music remind us of some retro movies. That is why the 1920s and the 1930s are her favorite era. She brings a lot of elements from these era into her show, as if music, costumes, accessories, and so on.

She already peformes despite she gave birth to a boy just 4 months ago. Let's look forword to see her humorous and happy show again!!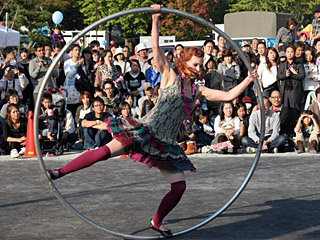 (Karu)