The people's energy will be lifted as the city turns vibrant and comes alive
Since it began in 1992, under the concept "The city is a theater" DAIDOGEI World Cup in Shizuoka (DWCS) has been held every year in the Shizuoka city for 4 days around early November.
Each successive DWCS has grown in both quality and scale adding an extra 1.5 million attendees every year making it one of Asia's hallmark street theatre festivals.
'The city of dreams'
When the festival appears with the very highest level of international and domestic artists, the city turns into a celebration of creative arts that results in a wave of big smiles and laughter that ripples through everyone's heart.
Through this experience the people will feel the potential within, adding a world class value to the city. The audiences and artists will create a one and only magical experience that we encourage and invite you all to attend.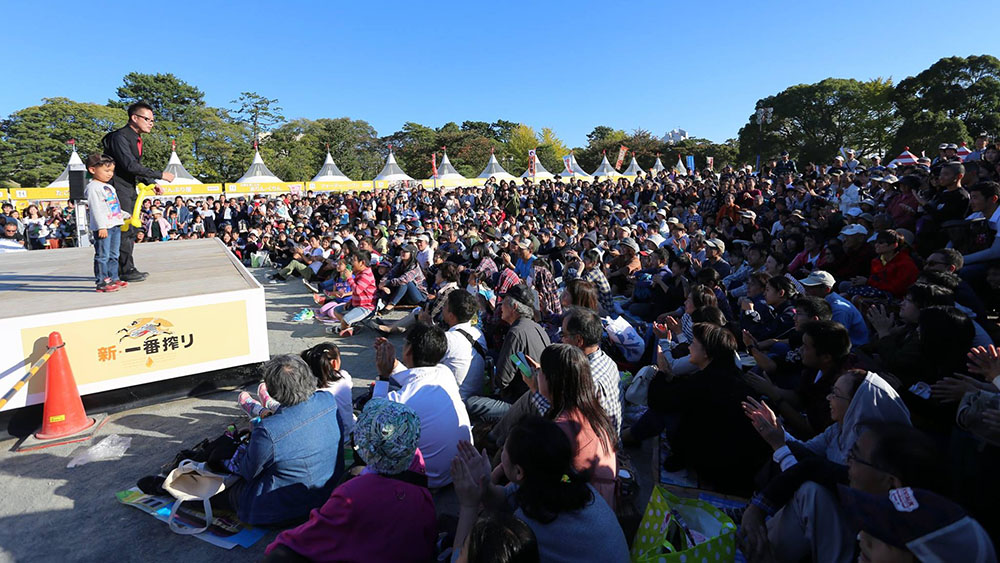 Unique features of DAIDOGEI World Cup in Shizuoka
World Cup Category
This category involves a competition resulting in the winners receiving awards for their outstanding performances.
This will involve prizes for the Champion, Silver and Bronze Awards. Also depending on the year the Executive Committee Award.
The judging system is composed of a jury of 25 citizens that receive a lecture on what to look for when judging who's provided the greatest pleasure as a street performer.
The judges will use the 'nagasen method' which is where they'll write down how much of a 1000 yen they'd put in the hat of the performance they just saw.
This system is unique to Shizuoka.
The Champion act will be invited as Guest Artists the following year.
On Category
This category consists of 35-40 acts that will enrich all corners of the city throughout the day and night. This is where a wide variety of selected international and local acts work in fixed locations scattered around the city including walking acts that roam the streets. This category fills the city with various amazement with delightful surprises around every corner.
Newcomers Category
DWCS is proud to introduce this new category in 2019 that applies to local artists only. The swelling ocean of the performance world spills over onto the streets of Shizuoka. What transformations and trends will the tide bring from this new wave of talent.
Fringe Category
In this category you'll find entertainment in the form of nouveau silk, live painting, mini venues, cabaret, and much more.
The sky is the limit to what unique street theater this category can bring. With forever changing varieties of ideas and creativity this category cements a platform for you to experience unique flavors of alternative arts and performance.