スタッフが飛び回り取材し、会場よりその様子をお届けします。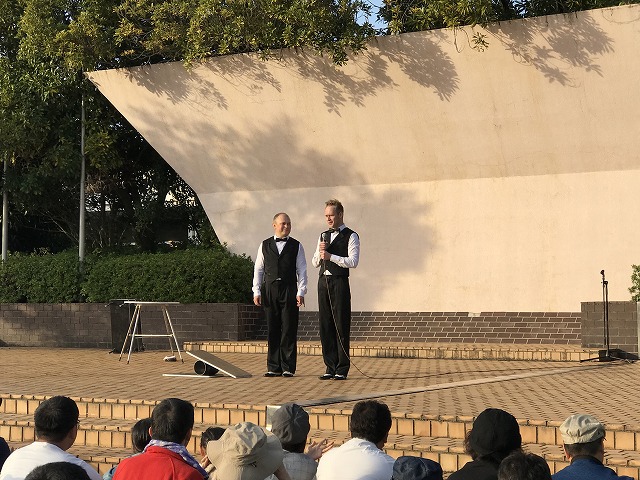 Meleshin Brothers is a real brother duo from Russia. They grew up in a circus studio in Russia and has tried many different acts. The duo's preffered apparatus for their performance style is the rolla bolla, and the duo is entertaining the audience in Shizuoka with their thrilling rolla bolla act.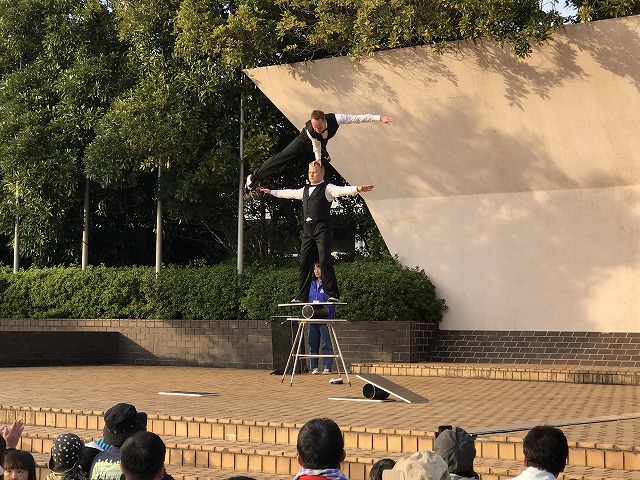 This is Meleshin Brother's second visit in Japan. Their first visit to Japan was 13 years ago, and they are happy to be back. They enjoys the atmosphere of Daidogei World Cup. According to the brothers, its style and spirit gives special feeling to them. Because the Daidogei World Cup is street performance, they can see everything such as audience's reaction and what they are doing, unlike the stage performance.
Performing for Meleshin Brothers is one form of art that they cannot live without. Not only they give smile and energy to the audience, but also they get energy from the audience. To perform such a thrilling rolla bolla act, it takes step by step practice; first, practice on the floor, then on rolla bolla, and lastly on the table. Let's keep sending the duo tons of energy by cheering so we can keep watching their amazing and continuously improving rolla bolla act!
(Nana)